80% of Calgarians are concerned about poverty, with nearly a third of respondents reporting reduced employment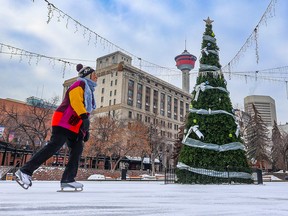 Article content
Many Calgarians feel they can't save for the future and four out of five people in the city worry about poverty, a new survey of how people view their community shows.
Article content
The Calgary Foundation released its 2022 Quality of Life Report on Tuesday, which shows how Calgarians feel about everything from their sense of belonging and their future plans for living in the city, to their views on safety and mental health.
Article content
Foundation vice-president of communications Taylor Barrie said this year's report has a focus on inflation and affordability in Alberta's largest city. She said 80 per cent of Calgarians are concerned about poverty, as nearly a third of respondents have reduced their hours at work or lost a job.
"I think what really stood out for us was that the demographic that was most concerned about being able to save for the future was that 55- to 64-year-old age group," Barrie said. "It's something to watch because obviously it will have consequences in the future when it comes to jobs, people staying in current jobs."
Article content
The findings come at a time when inflation has soared to the highest level seen in decades, prompting governments across the country to introduce measures to combat a higher cost of living.
The foundation's report shows food costs rose by 9.7 percent, with fresh fruit and meat prices rising by 10 percent. With the rising costs, the survey found that Calgarians are making fewer charitable contributions than in the past.
People also expressed concern about their personal safety, with 38 per cent of Calgarians saying they don't feel safe in their own home. One third of respondents said they felt stressed.
However, Barrie said that overall Calgarians' quality of life in 2022 remained static compared to the pandemic years of 2021 and 2020. She said people still feel they have a good quality of life and about four in five Calgarians feel they have a sense of belonging in the city.
Article content
'Not a luxury lifestyle': $22.40 an hour is considered a living wage in Calgary

'Perfect storm' swirls as Canadians face hot inflation, rising rates

'A red flag': Calgarians feel less safe and fear crime is on the rise: poll
"There's been so much research done in the space of belonging, but we know that in general you're less stressed, you're more generous, you're more likely to give your time or your money if you feel like you're part of ' a community," Barrie said. "Your physical and your mental health tends to trend upward when you feel you belong, and belonging is also key to our economic prosperity."
The survey found that 85 per cent of young adults, aged between 18 and 24, believe the city is a good place for young people to live and half of respondents said they have a good work-life balance has. Almost three-quarters of Calgarians don't see themselves leaving the city.
"I think that sense of community, that sense of belonging, is pretty critical if you want to grow your roots in the city," Barrie said.
The report doesn't make any recommendations to lawmakers on how to improve life for Calgarians, but Barrie said she hopes it can be used to spark conversations. She called it a great tool that can galvanize regular Calgarians to get involved with various organizations in the city.
dshort@postmedia.com