The report also pointed to an acute, long-term shortage of housing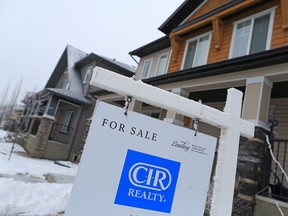 Article content
Calgary's residential real estate market will continue to grow while much of the rest of Canada declines next year, according to Royal LePage.
Article content
The real estate company's 2023 market survey forecast released Tuesday predicts the average single-family detached home in the city will break the $700,000 mark, with a one percent increase in price from $694,200 at the end of this quarter to $701,142. Overall, Royal LePage says there will be a 1.5 percent increase in the total to $612,451 from $603,400. The biggest gains will come from the condominium market, where the agency predicts a 2.5 percent increase in prices to $239,543 from $233,700.
Article content
"I expect we will continue to see moderate price growth in the entry-level market, particularly in the condominium segment, which remains very active and has recorded double-digit growth this year," Corinne Lyall, broker and owner of Royal LePage Benchmark, said in a news release. said. "This segment will lead Calgary's price growth in 2023."
Article content
The Bank of Canada's 400 basis point interest rate hike since March has sent home prices down in most Canadian markets, but Calgary bucked the trend.
The report also pointed to an acute, long-term housing shortage and a growing population due to record levels of immigration that are keeping home prices high across the country, despite the slowdown.
Article content
Nationally, total prices are expected to drop one percent to $765,171 in 2023, while the price of a single-detached home is expected to drop two percent to $781,256.
The Calgary market has been boosted by an influx of people from out of province.
Why the mortgage stress test is likely here to stay even as qualifying rates hit 8%

Ottawa to provide one-time rent subsidies of $500 for low-income families

Mortgage rates rise higher after latest rate hike, but end of hike cycle in sight
The Greater Toronto Area market is expected to decline, but it will remain the second most expensive market in Canada with the average single-family detached home going for $1,329,413, down 2.5 per cent from $1,363,500. Meanwhile, Toronto's condo market is expected to grow in price by one per cent, from $694,300 to $701,243 – or the price of a detached house in Calgary.
Article content
This population boom is putting more pressure on an already strained supply in Calgary.
"There are a lot of buyers hanging on the sidelines waiting for the right product to hit the market," Lyall said in the news release. "I expect activity to remain strong throughout the winter, with a normal seasonal slowdown in December and January before picking up again in the spring."
Detached homes in Edmonton are expected to jump two per cent next year, but that will be a relative bargain compared to their cousins ​​in Alberta at $491,436. Condos in the capital, meanwhile, should drop 1.5 percent from $201,300 to $198,281.
Vancouver is the only major market that will be more expensive than Toronto, with the average detached home falling two percent from $1,678,100 to $1,644,538, while condos should jump one percent from $739,900 to $747,299.
The only major Canadian market expected to see more growth than Calgary is Ottawa. Royal LePage predicted a two percent increase in the city's total, from $725,100 to $739,602. Condos will increase two percent to $378,114 and detached homes will increase one percent to $850,117.