More than 200 Croatian fans draped in red-and-white checkered jerseys packed Limericks in south Calgary on Tuesday afternoon, watching their team suffer a 3-0 loss to Argentina in the semifinals.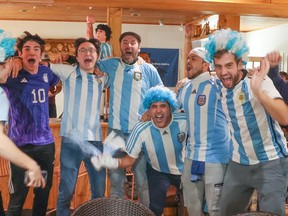 Article content
Although Canada failed to advance to the knockout stages of this year's FIFA World Cup, the tournament has Calgarians cheering for the few remaining teams.
Article content
The city's Croatian and Argentinian communities rallied for Tuesday afternoon's semi-final between the two countries, a 3–0 win that sent Argentina into the tournament's final on Sunday.
Article content
The biggest battle took place at Limericks in south Calgary, where more than 200 Croatia fans draped in red-and-white checkered jerseys packed the bar's top floor, exploding in anticipation of every scoring chance – and in agony as those chances disappeared.
It was a disappointing result for the home crowd, but supporters celebrated the team's great success, finishing in the last four this year after finishing as runners-up in 2018.
'Energy brought back': Calgary bars welcome World Cup bump

'My baby scored': Mum hails Sam Adekugbe's part in World Cup goal
"For a country as big as Croatia to make it to the semi-finals is great," said John Mustapic, who moved to Calgary from Croatia about 60 years ago.
Article content
"It's about community, being together. . . When these things happen, people come together."
Argentina fans in Calgary watched the game at smaller bars and viewing parties across the city, said Jorge Romberg with the Argentine-Canadian Association of Calgary. He said the community would plan a viewing party for the team's appearance in the final.
"This is a big day for Calgary's Argentinian community. It's emotional," Romberg said. "It's kind of a religion. I watched videos from Argentina and it's amazing."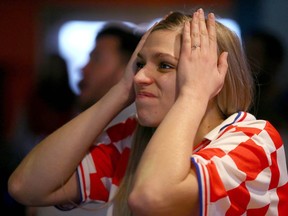 Local fans rode Tuesday's game, Romberg said, with Argentina last winning the World Cup in 1986 and star soccer player Lionel Messi nearing the end of his career.
Croatia's World Cup road included a win over Canada in the group stage, a game local Croatia fan Frano Ćavar said is encouraging for the growth of soccer fans in Canada. He said the World Cup run was a unifying force for the already tight-knit community of Croats in Calgary.
Article content
"It's about our culture, it's about our passion for Croatia and this team," Ćavar said. He said the community watched games in large numbers, which often take place during the working day due to time differences with host country Qatar.
"When you are so united by passion and excitement for something, you will make it work."
There are between 3,000 and 4,000 Croats living in Calgary, Ćavar said, while Romberg estimated that there are between 500 and 700 Argentinian families in the city. Both communities have long histories in the city, with the Calgary Croatia Sports Club founded in 1959, according to Ćavar — 32 years before the country declared independence.
"These are historical generations going back, as well as newer immigrants during the last war, when my parents came, until today," Ćavar said.
The World Cup's second semi-final, between France and Morocco, kicks off on Wednesday afternoon. The winner will face Argentina in the World Cup at 08:00 on Sunday, while the loser will face Croatia in the third-place match on Saturday at 08:00.
jherring@postmedia.com
Twitter: @jasonfherring