The judge said the decision was made based on the officer's stressful personal circumstances, along with the likelihood of "extra-judicial sanctions" that include the officer potentially losing his career.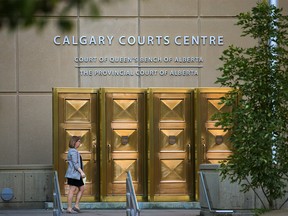 Article content
Assaulting a drunk, handcuffed man by knocking him out of his wheelchair, stomping on his bare foot and lightly kicking him in the face won't mean a criminal record for a Calgary police officer.
Article content
Provincial Court Judge John Bascom agreed with defense lawyer Cory Wilson on Tuesday that a conditional discharge was appropriate for Const. Eric Plummer.
Article content
And while Plummer will have to wait four years — the one year he'll spend on probation and three more before his record is expunged — he won't be saddled with a criminal record as a result.
Bascom said an informed member of the public who knew the full circumstances of Plummer's wrongdoing would not consider a dismissal to be against public policy.
Among those factors was that Plummer was under considerable stress due to long hours and a divorce at the time of the incident on November 10, 2019.
Crown seeks prison for officer who knocked handcuffed, homeless man out of wheelchair

Calgary officer charged with assault over rough arrest
Bascom also noted that Plummer will face "extrajudicial sanctions" up to and including the possibility of losing his career once the Calgary Police Service determines appropriate discipline.
Article content
Plummer had earlier pleaded guilty to assault for the attack on Vincent Lavoie inside the ambulance bay at South Health Campus Hospital.
Lavoie was taken there by hospital security when he refused to leave the emergency room area after being assessed for extreme intoxication and subsequently discharged by medical staff.
He was handcuffed behind his back and placed in a wheelchair when Plummer and his partner arrived after security personnel called for help to have him removed.
When Lavoie made a rude comment to Plummer's partner, Const. Jonathan Evans, the officer approached him and said he would have to answer their questions.
When Lavoie repeated the rude comment to Plummer, the officer placed his right hand on his head and neck and pushed him sideways, causing him to tumble out of the wheelchair.
Article content
Plummer then stepped on Lavoie's bare foot and punched him in the face with the toe of his boot, actions captured on a closed-circuit security camera.
After watching the video, Bascom concluded that Plummer did not intend to harm Lavoie.
The judge said Plummer's behavior was "particularly concerning" as he was "dealing with a vulnerable intoxicated individual", but found he was frustrated at the time.
Bascom also noted that Plummer has undergone extensive psychological treatment since the assault.
"I find const. Plummer's actions were impulsive," he said.
"Members of the public who know all the factors in this particular case . . . would conclude that a dismissal would not be contrary to public policy."
Crown prosecutor Ryan Pollard argued for a 30-day jail sentence followed by 12 months of probation.
Bascom said Plummer will serve the probation period but will be released at the end of the year.
Under the Criminal Records Act, that conviction will then remain on his record for another three years before it is expunged.
KMartin@postmedia.com
Twitter: @KMartinCourts