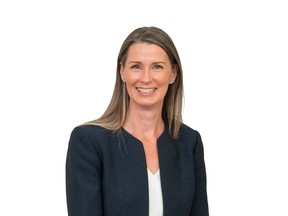 Article content
A former candidate from the People's Party of Canada has had her appeal rejected as a PCP candidate, the provincial party confirmed on Saturday.
Article content
Nadine Wellwood said last week that she had been disqualified by the UCP from running in the Livingstone-MacLeod riding because of previous social media posts she had made, and that she planned to appeal the decision. Dave Prisco, UCP spokesman, told Postmedia on Saturday that the appeal was dismissed.
Article content
Prisco declined to comment further on the reasons for this dismissal.
Wellwood did not respond to requests for comment Saturday. She issued a statement on Friday saying she has support from the local candidate nominating committee and that she has received messages telling her to stand by her principles and make no excuses for having strong opinions.
"The Provincial Electoral Committee is said to have noted concerns about some previous social media posts," Wellwood said in a post on her website. "I can't change past events, but took note to provide more context when commenting or sharing information in the future, as many of these tweets were as simple as a like or retweet."
Article content
Wellwood has previously compared public health requirements and vaccine mandates to Nazi Germany and has made several posts spreading misinformation about COVID-19. She also made posts suggesting that the Western world should "stop escalating the war in Ukraine" and work to achieve peace.
The party did not confirm that Wellwood's posts were the reason for her disqualification.
David Parker, founder of Take Back Alberta, a group that promotes civil liberties, grassroots populist movements, opposes COVID-19 public health measures and has actively advocated for the removal of former premier Jason Kenney, said he believes the decision to Denying Wellwood a candidacy is "completely legal."
"I have a very low opinion of her as a person, so, with that context in mind, I think it was perfectly legitimate for her to be disqualified," Parker said. "I think some of the things she said are pure Russian propaganda, which is unacceptable."
Article content
A list of candidates who openly supported Take Back Alberta were elected to the UCP board during the party's AGM in October.
Parker said while Take Back Alberta promotes freedom, freedom does not mean freedom from consequences. He said there are several people connected to Take Back Alberta who are interested in running in line.
The current MP for Livingstone-MacLeod, Roger Reid, has announced that he will not stand in next year's general election.
When Premier Danielle Smith first announced her intention to return to politics, she said she would seek the UCP nomination for the riding. Reid did not signal his intention to vacate his seat for Smith at the time.
Smith went on to win the UCP leadership race before running and winning a by-election in the southeast riding of Brooks-Medicine Hat.
dshort@postmedia.com