Article content
Calgary police responded to the scene of a fatal shooting in the northeast community of Falconridge on Saturday morning.
Article content
Officers were called to the 100 block of Falconridge Place NE around 7:30 a.m. for reports of gunshots.
Article content
"We attended and we located one adult male deceased at the scene," Staff Sgt. John Guigon with the Calgary Police Service.
The homicide unit is now investigating.
"They are currently speaking to numerous witnesses and officers at the scene are conducting a CCTV canvass of the area," he said.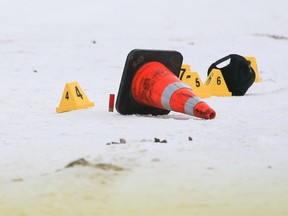 Guigon said the identity of the victim will not be released until an autopsy is performed, likely Monday.
It was the second shooting in the northeast in two days. On Friday morning, a man was taken to hospital in critical condition following a shooting in Castleridge.
According to Guigon, this victim is still in a life-threatening condition in the hospital.
"The homicide unit is certainly investigating any possible connection between today's shooting and yesterday's shooting, but we have not determined one way or the other whether they are connected," he said.
brthomas@postmedia.com
Twitter: @brodie_thomas