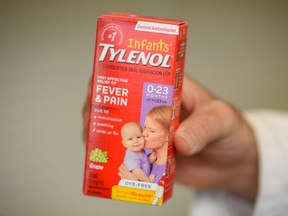 Article content
Alberta's premier says addressing a nationwide shortage of children's pain relievers and fever medication is needed to help ease pressure on children's hospitals.
Article content
But a leading Alberta pediatrician says while the shortage of children's Tylenol and other acetaminophen-containing drugs is a problem that needs to be addressed, restoring supplies won't solve a capacity problem in pediatric emergency rooms amid an ongoing rise in respiratory illnesses not.
Article content
Speaking to reporters this week, Premier Danielle Smith said she was concerned about the drug shortage and said a lack of access to medicine was forcing parents to seek care in hospital.
"If parents don't have the drugs they need to treat a fever at home, they go to hospital waiting rooms, and the hospital wait is unacceptably long," Smith said.
"The most significant thing parents want to see from me is, if we can't get supplies through the normal chains, we're going to take steps to make sure we get the supplies."
Article content
It's fair to say the shortage of fever medication is adding to stress on Alberta children's hospitals, says Dr. Sam Wong, president of the Alberta Medical Association's section of pediatrics.
But Wong said that's far from the only reason a large number of patients fill pediatric ERs. He said the spread of three different viruses — influenza, respiratory syncytial virus (RSV) and COVID-19 — as well as short staffing are bigger factors.
"The lack of Tylenol and ibuprofen for kids is increasing parental anxiety. It's not helping things," Wong said.
"But it's multifactorial, and it's not as simple as saying it's the Tylenol and ibuprofen that's causing the problem. I wish it was that simple, but it's not that simple."
Article content
This weekend, wait times at the Alberta Children's Hospital in Calgary exceeded 12 hours at times. Health officials say the triple threat of respiratory viruses, led by a particularly virulent flu strain, is driving patients to ERs.
The shortage of over-the-counter pain relievers for children began in the spring but worsened this summer as increased demand coupled with an already low supply led to empty shelves at pharmacies.
Alberta Health Services said the shortage has not affected patient care, and says its provincial pharmacy team is taking stock of medication supplies and following an established process to minimize the effects of drug shortages.
Health Canada, which is responsible for addressing drug shortages in the country, said earlier this week it had obtained more doses of medication, but would not say how many additional doses are coming or where they will be sent.
Article content
Smith suggested Alberta could work to secure supplies itself, but Alberta Health did not respond Wednesday if the province had taken any steps to do so. The Premier and Minister of Health, Jason Copping, met with the Alberta College of Pharmacy and the Alberta Pharmacists' Association this week to discuss solutions to the shortage.
Alberta Children's Hospital, hit by rising respiratory illnesses, wants to expand ER capacity

SickKids issues letter on children's Tylenol and Advil shortage

Alberta affected by nationwide shortage of children's cold medicine

Children's pain, fever drugs entering store shelves: Health Canada
Smith also said some compounding pharmacies have the ability to make suitable medications on-site, even if there is no brand name or over-the-counter inventory.
Article content
"We encourage parents to contact their pharmacy team to find out if this service is provided at their pharmacy or, if not, ask if the team can recommend where the service can be obtained," Alberta College spokesperson Barry Strader said. or Pharmacy, said.
Wong said he recommends parents looking for medication to talk to their pharmacist, and said it is also possible for experts to calculate appropriate doses for children from adult formulations of medication.
He said occasional shortages of pediatric medication in Canada have been a problem for more than a decade, but that the absence of sufficient supplies of Tylenol is causing real stress for parents.
"I don't know what the quick fix is ​​for the shortage because it's more of a demand problem," Wong said. He added preventive measures can reduce the risk of serious illness this flu season.
"Many children are currently sick. I think people can take some simple precautions, get their kids immunized, get themselves immunized against the flu. Flu is out there right now, and if you're immunized, you're less likely to get it."
– With files from The Canadian Press
jherring@postmedia.com
Twitter: @jasonfherring