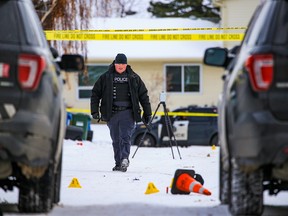 Article content
Rising violent crime has most Calgarians feeling less safe in the city than they did three years ago, according to a new poll.
Article content
The findings of the online survey conducted for ThinkHQ Public Affairs come as city police say rates of many categories of crime are returning to their pre-pandemic levels, which usually means an increase.
Article content
Of the 1,172 Calgarians surveyed a month ago, 53 per cent said they felt less safe than they did in 2019, while 72 per cent said they believed crime rates had increased since then.
Only four percent of respondents said they felt safer, while 42 percent said their concerns had not changed.
And 48 per cent said they believed crime in Calgary was high or very high, while 49 per cent said it was moderate or relatively low with women and older people tending to view crime trends more negatively.
Those results come after a series of shootings that have significantly increased the frequency of gunplay in the past year, amid a number of high-profile random assaults and murders.
Article content
City police have issued frequent assurances to the public that they are taking joint action against gun offenders and gang members, but have also insisted that community assistance is essential to combat the scourge.
One incident that struck a dark chord with Calgarians was the death of innocent bystander and mother of five, Angela McKenzie, who died in May in a collision between two other vehicles whose occupants were involved in firearms in ' n Forest Lawn Street.
"Crime and public safety are very much on the minds of Calgarians today, and there is a strong sense that things have gotten worse over the last few years," said ThinkHQ President Marc Henry.
"Almost three-quarters of citizens feel that crime is worse than it was three years ago, and the fact that more than half personally feel 'less safe' is something that should raise a red flag for government decision-makers."
Article content
He said these views are based on both reality and exaggerated perceptions, noting that crime has not risen beyond the pre-pandemic rates seen in 2019.
Playing a role in the survey numbers is an impression that social disruption driven by mental health issues has grown over the past few years, something that has been noticed in frequent places such as public transport, Henry said.
"Public safety is a core responsibility for government, and most Calgarians seem to feel that their city has gotten a little 'rough around the edges' in recent years," Henry said.
A Calgary police Commission meeting late last month heard officers were dealing with an increasing number of mental health calls, handling 4,640 by then, compared to an annual five-year average of 3,300.
Article content
'Senseless act of violence': Family releases statement on mother's death in Forest Lawn crash

Community mourns loss of Calgary mother, support needed for five children

Police say woman's death in Temple was targeted homicide

Police are looking for a suspect after a woman was shot dead and a man was wounded in Evergreen

'An amoeba': Calgary police work to keep up with the city's ever-changing gang scene

Violent crime in Calgary at five-year high but similar to pre-COVID levels: police

Suspect arrested after random assaults of at least 10 people during morning rush hour

Concerns about violent crime are growing as police investigate several fatal shootings from the past week
There was an increase in violence in Calgary throughout 2022. Officers responded to more than 100 shooting incidents across the city and Calgary Police Chief Mark Neufeld said there has also been an increase in the number of calls involving assaults.
Article content
On Tuesday morning, the police arrested a man who is suspected of having randomly assaulted at least 10 people in the city centre.
Neufeld said earlier this year that Calgarians shouldn't worry too much about their personal safety about shootings, since most of them are targeted.
Robberies of increasing violence at pharmacies, marijuana and liquor stores have also been a growing concern in the city over the past year.
A random stratified sample of panelists was invited to complete the survey of the Angus Reid Forum panel.
The margin of error for a comparable probability-based random sample of this size is +/- 2.8 percentage points, 19 times out of 20, ThinkHQ said.
More to come…
– With files from Dylan Short
BKaufmann@postmedia.com
Twitter: @BillKaufmannjrn