Three Calgary residents have been charged with the thefts following an investigation that police say was assisted by several local metal recyclers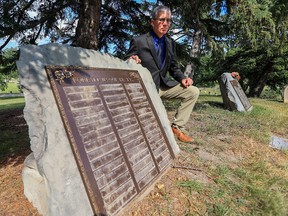 Article content
Three people have been charged by police after hundreds of bronze plaques were stolen from a northwest Calgary cemetery.
Article content
An estimated 300 bronze plaques are from Queen's Park Cemetery, at 3219 4th St. NW, removed sometime between Aug. 18 and Aug. 23, police said. An unspecified number of bronze flower vases were also stolen.
Article content
Family members discovered the plaques were missing and notified cemetery staff, who reported the thefts to the police.
Three Calgary residents have been charged in connection with the thefts following an investigation that police say was assisted by several local metal recyclers.
AJ Trodhie Irlandez, 40, Matthew Keith Woodford, 36, and Dawn Louise Smith, 46, each face one count of possession of stolen property over $5,000.
Irlandez and Smith were scheduled to appear in court Tuesday. Woodford missed his Nov. 7 court date and is now wanted on warrants.
Article content
Hundreds of bronze plaques stolen from Calgary cemetery likely to be sold as scrap metal

'Talk about disrespectful': Stolen historic plates likely to be sold as scrap metal

'Disgraceful': Plaques honoring military veterans stolen from Currie Barracks
At the time of the thefts, police said they believed the plates were stolen with the intention of being sold as scrap metal. Calgary Police Service Staff Sgt. Colin Chisholm said the personal nature of the thefts made the crime particularly disturbing.
"There are no words you can put out there that describe how disappointing it is, how disrespectful someone would be to actually steal memorial plaques from people who have passed away, that loved ones rely on to come and remember them," Chisholm said. in August.
Article content
The city said families will not have to pay replacement costs for the stolen plates.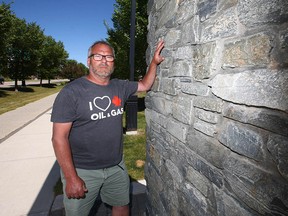 This summer has seen a spate of thefts of bronze and copper plaques in Calgary and the surrounding area, with some stolen plaques honoring veterans and pioneers in Albertans.
The thefts included eight plaques in Currie Barracks recognizing Canadian World War II veterans who received the Victoria Cross, and plaques at northeast Calgary's Ukrainian Pioneers Park commemorating the first Ukrainians who came to Alberta 130 years ago .
Provincial legislation guards against thieves trying to sell stolen metal for scrap. Traders must report certain sales involving high-theft metals to the police, and the transactions must be completed using traceable forms of currency.
Police are asking anyone with information about plaque thefts to contact the non-emergency line at 403-266-1234, or to submit an anonymous tip to Crime Stoppers at 1-800-222-8477 or calgarycrimestoppers.org.
— With files from Brodie Thomas
jherring@postmedia.com
Twitter: @jasonfherring