'With so many vulnerable and at-risk students needing one-on-one time with their teachers, our public schools need more assistance'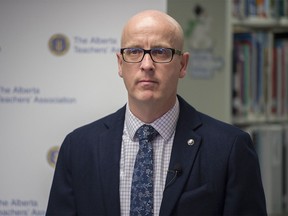 Article content
Almost two-thirds of Alberta teachers have seen an increase in class sizes, with up to 40 per cent having 33 or more students in their class, according to a new survey.
Article content
The Alberta Teachers' Association has released data from its most recent "Pulse Rapid Research Study," surveying teachers across the province this fall on class sizes, classroom complexity and workload.
Article content
The survey found that four in 10 Alberta teachers have 33 or more students in their classrooms, with the largest class sizes in grades 4 to 6, high school science and junior high math.
ATA officials said the numbers are much higher than the guidelines set by the Alberta Commission on Learning in 2003, when recommendations were 23 students for grades 4 to 6 and no more than 27 students in grades 10 to 12.
The survey also found that up to 85 percent of teachers have seen an increase in the complexity and diversity of student needs within their classrooms, including cognitive, social and emotional needs, as well as behavioral challenges.
Article content
56 percent of teachers also reported reduced support for students with special needs. For example, waiting times for supports such as speech or occupational therapy and psycho-educational assessments now take between six months to a year, meaning students can be without support for an entire degree.
Faced with more challenges than ever, teachers need more help
Jason Schilling, president of the ATA, said teachers face more challenges than ever amid the pandemic, as students increasingly exhibit social, emotional and cognitive issues.
And the challenges illustrated in the survey are due to a lack of investment and funding for education by the UCP government, he said.
"Alberta teachers and students deserve a comprehensive and proactive plan to address needs," said Schilling.
Article content
"With so many vulnerable and at-risk students needing one-on-one time with their teachers, our public schools need more assistance.
"And to fix these challenges, we need the government to listen to teachers and school leaders and focus on the needs of our students.
"The government must start that work today."
UCP's personalized learning regulation puts school staff on double duty

Fall enrollment data shows a large influx of students returning after the pandemic

Students face larger, more complex classrooms as school opens
Teachers who provided specific comments in the survey said that students continue to fall behind due to a lack of support.
One 3rd grade teacher described a classroom with students diagnosed with autism, severe behavioral challenges, and English language learners two full grades behind in reading and comprehension.
Article content
A junior high teacher added "our class size and complexity continues to increase, while our support continues to decrease. This year, class sizes for grade 7 increased from 25 to 35 students with increased complexity of student needs from behavior to more significant identified exceptions."
Education Minister Adriana LaGrange said the UCP is funding education at record high levels and working with school boards to ease pressure on teachers.
"We provide additional funding to school authorities through a new supplemental enrollment growth grant for school authorities that grew by more than two percent over the previous year," LaGrange said, adding that Budget 2022 provides $110 million over three years to address the impact on mental health, access to assessments and learning disruptions.
"I greatly appreciate and value the work teachers do to support our students and will continue to work with school authorities, the Alberta Teachers' Association and other education stakeholders to ensure we are addressing the needs of our school system."
eferguson@postmedia.com