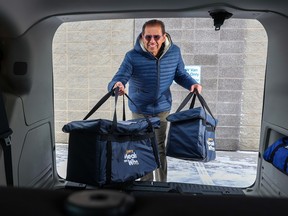 Article content
"When you're able to go out and pick your own food, it just makes you feel human."
Article content
"My eldest child has some mental health issues and therefore red dyes are very weak for her. With grocery gift cards, I was actually able to get her off her medication and keep the red dyes out of the house."
Article content
It was a pivot, an initial desperate move to continue helping the city's most vulnerable children at a time when people were forced to live apart and food supply chains were disrupted.
In the summer of 2020, Bobbi Turko and her then 16-year-old daughter, Sutton Garner, co-founders of I Can for Kids Foundation, dramatically changed how they ensured that children facing food insecurity would be properly fed. They could not have known at the time what a genius move it was.
Along with hearing comments like the above two from grateful customers, the Turkos also got some hard data to back up the new winning approach.
Article content
"The University of Calgary approached us last year about studying our summer program," she says of the shift from food delivery to grocery gift card delivery. "The results were overwhelmingly positive, showing that it had a much bigger impact. If it wasn't for COVID-19, we would never have tried it."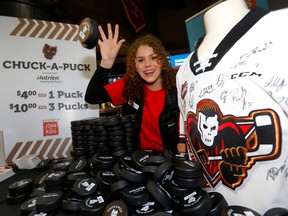 Turko finds those needy school-aged children with the help of a network of agency partners, who have provided nearly a quarter of a million meals since her charity's inception in 2017. This year, I Can for Kids' grocery gift certificate program became a year-round endeavor.
"We are able to actually boost families' social, physical and financial well-being in ways that we could not achieve by just providing food," she says. "And that's a good thing, because the need has never been greater."
Article content
I Can For Kids is one of several Calgary community agencies featured in the 2022 Christmas Fund. Every weekend during the month of December leading up to Christmas Day, Postmedia will highlight a variety of social issues in our city and show how through the generosity of our readers, we can all make a difference to help our fellow Calgarians, including some of the city's most vulnerable.
Pandemic and inflation lead to rising food insecurity
When it comes to hunger and food insecurity – defined as a lack of reliable access to an adequate amount of healthy and affordable food – the need is more pronounced now than at any other time in the 21St century. According to the non-profit Community Food Centers Canada, one in six Canadians cannot afford to put food on the table, a number that has only increased as the pandemic continues.
Article content
Combine that with inflation leading to increases in the cost of food by more than 22 per cent, and you have a situation where up to 60,000 Calgary children and youth face food insecurity every day, their parents often having to choose between paying the electricity bill and to eat three square meals a day.
"No one should have to make that decision," said Roxanne Droppo, executive director of Jewish Family Service Calgary, a non-denominational social agency that provides a variety of services and programs to Calgarians of all faiths and cultures, serving approximately 1,700 individuals. serve and families every year. "But we're seeing more need in the community, especially among single-parent households and seniors, and we've also seen a big increase in seniors facing homelessness."
Article content
Through its Basic Needs-Wynne's Pantry program, the 60-year-old nonprofit addresses the effects of poverty by supporting individuals with food restrictions — about 75 a week — many of those hampers tailored to specific dietary requirements. "If you need food, we'll get you food," said Droppo, whose organizations work with several other city agencies to identify and reach out to those most in need.
Droppo says it's thanks to her staff of 50, and more than 100 volunteers, that programs like Basic Needs-Wynne's Pantry have been able to do their part to fight food insecurity in our city. "They play a big role in the delivery of the hampers; we couldn't do it without them."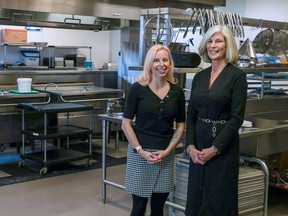 Stephanie Ralph also points to a dedicated staff and 350-strong volunteer contingent at Calgary Meals on Wheels that are also instrumental in her organization's continued success on the front lines of the fight against food insecurity.
Article content
"Everyone here has a passion to serve the community," said Ralph, co-CEO of the organization that has been producing and delivering nutritious, reliable and accessible food to Calgarians at a reasonable fee for nearly half a century. "We all have a passion for seeing people succeed, and we also share a passion for food," adds Ralph, whose facility prepares about 5,000 meals daily for everyone from seniors and those with disabilities to young people. schools.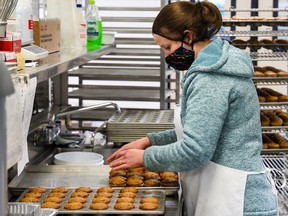 The successes were notable, says Ralph. "When we opened our new building in 2013, we made a million meals over the next three years," she says of the facility, which boasts a 15,000-square-foot kitchen. "Last year we passed the million mark for just one year."
Article content
Still, with inflation sending grocery prices skyrocketing, as well as utility rate hikes and high fuel prices hitting their bottom line, it hasn't been all sunny skies for the organization that has been bringing more than half the meals to people's doors. century.
Rising bills hurt those who help feed hungry Calgarians
"With the pandemic, we saw an increased demand for our service, while the people who make food in our building couldn't step down and we had to return to contactless delivery for customers who really needed that human connection," she says. . "But we managed it. Now we're projecting it's going to be $80,000 over budget this year on food alone, and everything else in our budget line has also increased."
Yet it is those 2,000 unique individuals, many of them seniors and people with disabilities, along with the 6,000 school children they feed each year, that keep Ralph and her team persevering despite tough times.
"We are the only organization that does subsidized, prepared meals and brings them to your door," she says. "And it's really, really good food."
To help the Calgary Herald/Calgary Sun Christmas Fund support 75 plus charities in our city, please click here, select the charity of your choice, then make your donation online. Thanks in advance for helping us to help a lot!