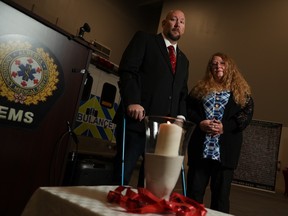 Article content
As Calgarians prepare for the holiday party season — many for the first time in three years — Mothers Against Drunk Driving is encouraging people to think before they get behind the wheel this December.
Article content
At an event Wednesday to launch MADD Calgary's 35th annual Project Red Ribbon campaign, which promotes sober driving through the holidays, the organization's interim vice-president Aaron Libby said the reminder is especially important this year.
Article content
"We know there are more parties going on. COVID restrictions are being lifted. . . There's just a lot more alcohol-flowing parties that we haven't had in the past few years," he said.
MADD runs the program nationwide from November to early January, with local chapters being distributed thousands of red ribbons – meant to serve as a vow and reminder to never drive drunk.
A victim of a drunk driving accident himself, Libby's life changed forever when he drove home from the Calgary Stampede in 2013.
Article content
Libby, a former social worker, spent the day at the festival with a client. After dropping off his client and checking in to tell his supervisor he'd be back the next morning, the next thing he remembers is waking up days later in a hospital bed.
He says he lost three decades of his working life "because of an impaired driver driving westbound in the eastbound freeway." He is still awaiting surgery for his life-changing injuries; he has a knee procedure scheduled soon and will likely need more surgeries on his shoulder and both hips. He also suffered a serious brain injury in the accident.
"I didn't expect to be a statistic," he said.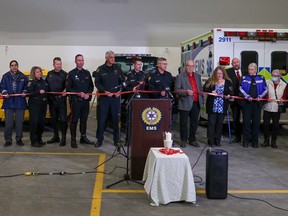 Susan White also shared the story of her husband's tragic death at the event. In her minivan, she drove up behind her motorcycling husband Kelly Ross on September 23, 2019, when an SUV swerved into his path at an intersection in southeast Calgary, kill him
Article content
"The hardest thing I've ever done was leaving Kelly cold, alone and dead on the ground," she said.
Drunk driver Wenieke Thijs was found guilty in connection with Ross' death in September – almost three years after the incident. His blood alcohol concentration taken after his arrest showed he had 170mg of alcohol per 100ml of blood in his system, more than double the legal driving limit of 80mg. Thijs is awaiting a sentencing hearing early next year.
Police in Calgary say around one in three fatal accidents locally are caused by an impaired driver. According to provincial data, from 2012 to 2016, accidents involving impaired driving killed 368 people and injured nearly 5,500.
"These are preventable deaths and it is the duty of each of us this holiday season to ensure that sober driving remains a priority," police said in a written statement to Postmedia. "Plan a ride home with a designated driver, use transportation or carpooling companies, and intervene if you see someone leaving a party who may be impaired."
For more information on the Project Red Ribbon campaign, visit madd.ca.
mrodriguez@postmedia.com
Twitter: @michaelrdrguez