'You have a lot of scared people out there': The union said 527 of 534 members had received redundancy notices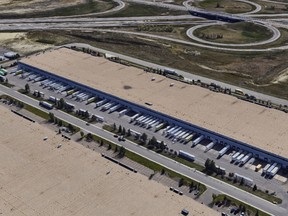 Article content
Nearly 530 workers at Calgary's Loblaw distribution center have begun receiving layoff notices after negotiations over a new collective agreement broke down and the company moved to lock out employees.
Article content
The members of the Teamsters Local Union 987 rejected two offers, which they said were the same offer, from the Canadian grocery giant. The union says Loblaw refuses to go back to the table and informed them of the notices on November 16.
Article content
"You've got a lot of scared people out there because they might be strong in their beliefs about changes they want to see at work, but the plain fact that being thrown out of work a month before Christmas is pretty scary for anybody ," said John Taylor, business agent for Local 987 and spokesman for the negotiating committee.
A press release from the union says 527 of 534 members at the distribution center have received layoff notices.
The union said they were looking for a pay rise, but above all an improved quality of working life, which is where the previous offers fell short. Taylor noted that the company removed part of this structure from the collective agreement of six years ago. The Teamsters are pushing for guaranteed consecutive days off and for some seniority priority in scheduling.
Article content
Taylor said Loblaw did include some significant wage increases in their offer, although there are a number of members who earn less than the acceptable living wage for Calgary of $22.40, causing greater problems with high inflation and the cost of living.
Loblaw profits rise 23% in third quarter as Metro reports higher sales due to inflation

Loblaw raises profit outlook on strong demand for groceries and other essentials

'At least 10' Loblaws warehouse employees worked while symptomatic with COVID-19: AHS
"Right now, they're kind of on the low side compared to Federated Cooperative and other warehouses that we represent, like Cisco Food Service," he said.
Catherine Thomas, vice president of communications at Loblaw Companies Limited, said in an emailed statement that two-thirds of employees currently earn more than $22 an hour. She added the contract offer would have increased wages for full-time employees by 32 percent and more than 40 percent for part-time workers over a five-year term.
Article content
"These are some of the most competitive wages in the industry, some reaching over $33 an hour," said Thomas, who described the rejected proposal as scary and disappointing.
Negotiations on a new deal began in May while the current CBA expired on June 6.
Rejecting the offer on Nov. 15, Loblaw is now preparing for a work stoppage at the location and moving inventory to other distribution centers to ensure stores can operate without disruption.
Loblaw announced a 10.3 percent increase in earnings before interest, taxes, depreciation and amortization in the third quarter of 2022. earnings available to common shareholders of $556 million, up from $431 million in the third quarter of 2021, an increase of 29 percent.
Article content
The two sides currently have no meetings scheduled to negotiate further, and Taylor said the layoffs will take effect Nov. 25.
"If they're going to lock out our members, I mean, we didn't take a strike vote, we'd rather not have a strike, we don't want to strike," Taylor said. "We want to negotiate an agreement that gets the members back to work. But right now, the company doesn't seem to want to do that. I think they want to send some kind of message to their employees a month before Christmas that they are the big boss and that they better listen."
jaldrich@postmedia.com
Twitter: @JoshAldrich03