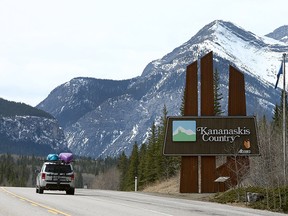 Article content
Transportation opportunities in Kananaskis will be investigated in the new year in the form of a feasibility study as approved by the region's council last month.
Article content
Back in September, the Kananaskis Improvement District (KID) board expressed interest to the administration for a transit pilot, but was told a feasibility study was a more realistic place to start.
Article content
The study will look at the options available, including routes from Calgary and within the region, how many buses will be needed and how the project will be financed.
Councilman Darren Enns said one goal of bringing transit to K-Country would be to ease the backlog of record-breaking visitation that has plagued the area for at least the last two years.
Visitors parking in the shoulders of roads has been of particular concern to board members and Alberta Parks since 2020, when Albertans flocked to the mountains in their millions, straining resources and damaging the environment.
Article content
At the KID board meeting on November 22, representatives from Alberta's environment and parks illustrated the high visitation volumes and problems that came with it.
In 2020, nearly 5.5 million people visited Kananaskis. That number decreased slightly to just over 5 million in 2021. From January to September 2022, 3.4 million people visited the region.
Enns said it will be important to balance boosting visitation with preserving the environment moving forward.
"We have to recognize that Kananaskis remains one of the most loved outdoor spots in our province, and a place that Albertans really embrace, and will continue to do so in significant numbers in the future, and we want to make sure that they are a place to stop safely and enjoy in an environmentally responsible way," he said.
Article content
"To build ourselves parking lot after parking lot in a protected area seems like a limited view. In my opinion, public transport can really help mitigate route congestion, traffic jams and a degraded visitor experience."
One year after launch, enforcement of Kananaskis Country Pass will begin

Several popular Kananaskis trails will be closed during $4M upgrade

Kananaski's land user groups are calling for changes to off-road vehicle management
The province said providing opportunities for "high-quality, low-cost recreational experiences" is a priority for the government and the number of people visiting the park in the past four years has put significant pressure on existing facilities.
"With the increase in visits to Kananaskis Country, it is important to ensure that we explore options to provide visitors with services and outdoor recreation opportunities while continuing to support tourism across the region," said an Alberta Parks representative in said an email to Postmedia.
Article content
Similar initiatives, such as the Grassi Lakes transit route, which would begin in 2023, and the managing director of Bighorn conducting their own transit feasibility study, illustrate that a project of this type and scope is realistic in K-Country, Enns said .
"We're an hour away from one of Canada's fastest-growing cities in the province's fastest-growing province, and I think every Albertan, whether they've been here for 100 years or one hour, they want to get out and embrace nature," he said. "And facilitating that is part of our mandate as a local government in Canada."
Administration will bring a financial overview for the study back to the council for review at upcoming budget hearings later this month.
ocondon@postmedia.com