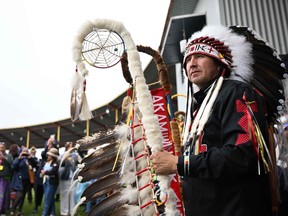 Article content
Alberta's sovereignty law should be repealed, not amended, several members of the Assembly of First Nations said Wednesday as they voiced their opposition to several provincial initiatives to fight Ottawa.
Article content
Speaking before the Assembly of First Nations Special Chief Assembly in Ottawa, several community leaders in Alberta said the province did not hold any consultations with them before introducing Bill 1: Alberta Sovereignty within a United Canada Act. Chief Darcy Dixon of Bearspaw Nation west of Calgary said the bill shows a complete disregard for First Nations people, their treaty rights and their role as stewards of the land.
Article content
"Alberta has no jurisdiction over treaty countries. Although the bill says very little, it's clear that Bill 1 is trying to open the door to very dire possibilities," Dixon said. "If resource development is restricted to protect the land and the province deems it harmful to Alberta, then those restrictions can be removed. Bill 1 is said to be just part of a political game. That may be true, but we see it as a veiled attempt to flout the treaty and as a way to gain illegal access to our land without restrictions."
Article content
The chiefs also spoke out against similar legislation being tabled in Saskatchewan.
If passed, Bill 1 would pave the way for Alberta to override federal initiatives that the legislature deems unconstitutional or harmful to Alberta.
The bill has faced criticism from the opposition, legal scholars and now First Nations chiefs. After initially giving cabinet unilateral authority to change laws after a resolution was passed by the assembly, Premier Danielle Smith said in a television interview at the weekend that the government was open to bringing forward amendments that would clarify the bill. will provide.
The government released a statement on Tuesday night outlining those changes, which include changes that say amendments to legislation will be made through normal legislative processes. The government also made changes to the definition of "harm" in the act, limiting it to an act on or interference with an area of ​​provincial jurisdiction or interference with the charter rights of Albertans.
Article content
The bill says nothing in the law can be interpreted as ignoring treaty rights. It also states that resolutions presented cannot be unconstitutional.
Chief Tony Alexis of Alexis Nakota Sioux Nation in Treaty 6 said he has reviewed the bill and all Treaty 6 chiefs remain unanimously opposed to it. He said the bill was a national and treaty issue and that it should be withdrawn, not amended.
"Let me be clear, this bill lacks rigor and is alarmingly open to interpretation, it is too uncertain and its impact potentially harmful and widespread," Alexis said. "Let's be honest, it all comes down to land and resources. We are once again the inconvenient Indian standing in the way of unprotected resource extraction and other exploitation of treaty countries."
Article content
UCP caucus votes to propose changes to Alberta's controversial sovereignty law

Link: Dictatorial, Unworkable Sovereignty Act Could Be Worst Legislation in Alberta History

City attorney sees no positives for Calgary in proposed Alberta sovereignty law

Anti-sovereignty protesters rally at the Alberta legislature

Smith introduces flagship Alberta Sovereignty Within a United Canada Act, which gives cabinet new power
Both Alexis and Dixon said there were no consultations between First Nation communities and the province on Bill 1.
Alberta Indigenous Relations Minister Rick Wilson said Tuesday he has heard concerns about the bill since it was tabled. He said he was open to bringing amendments proposed by chiefs to the cabinet if any were brought forward.
"I said, 'Well, you know, put something together and I'd be willing to take it forward on your behalf' but still I didn't see anything. But, I'm sure they're working on something," Wilson said.
He said he believed the clause in the bill around treaty rights protected First Nations rights.
When asked about introducing amendments, Alexis reiterated that the amendment they would like to see is a complete withdrawal of the bill. Wilson's office did not respond to requests for comment Wednesday morning.
dshort@postmedia.com
— With files from Lisa Johnson