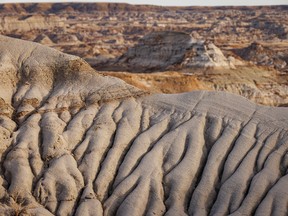 Article content
Dinosaur Provincial Park was one of several Canadian sites that recently received a designation of geological importance from UNESCO and the International Union of Geological Sciences.
Article content
The park in southeastern Alberta was one of the first 100 sites designated as a geological heritage site by the IUGS at a ceremony in Spain last month. Already a UNESCO World Heritage Site, the park was chosen as it is home to the world's largest abundance of dinosaur remains.
Article content
"This IUGS geological heritage site provides superbly preserved evidence of the tremendous diversity of organisms on the North American continent in a relatively short (2.4 Ma) interval of late Cretaceous time," reads a description from the global union. "This is the richest and most diverse dinosaur site in the world. Fifty-one species of dinosaurs have been identified so far."
A total of 100 sites around the world were designated for their geological significance after a committee received bids from 181 candidates to receive the honor. Canada is home to six of the first 100 sites.
Article content
"IUGS recognition of geological heritage sites gives visibility to those sites. This identifies them as being of the highest scientific value. These are sites that have served to develop the science of geology, especially its early history," says an IUGS news release.
Todd Loewen, Alberta's Minister of Forestry, Parks and Tourism, said in a series of social media posts this week that the designation confirms the region is world-class and one of a kind. He said he hopes the designation brings more visitors to the park near Brooks.
"Our province has the world's most beautiful landscapes," wrote Loewen. "Our provincial parks attract visitors from across the country and the world to experience their rich history and world-class outdoor recreation opportunities."
Article content
Steven Guilbeault, the federal minister responsible for Parks Canada, issued a statement in October congratulating all six Canadian sites on their honors, saying they are sources of research and discovery.
"These incredible places are sources of ongoing scientific research and discovery, and also serve as important contributors to local economies as unique, unmatched tourism destinations. Internationally, these places represent the geo-heritage of all humanity and the planet we call home," said a statement from Guilbeault.
Burgess Shale in British Columbia, part of Yoho National Park, Mistaken Point and Gros Morne National Park in Newfoundland, Joggins Fossil Cliff in Nova Scotia and Eo-Archean Nuvvuagittuk Greenstone Belt in Quebec were also named as the first 100.
dshort@postmedia.com