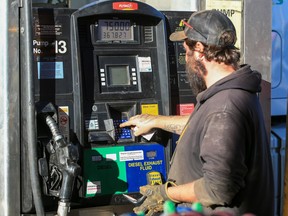 Article content
Albertans should brace for a new wave of inflation in the coming months due to record low levels of diesel.
Article content
Vijay Muralidharan, owner and director of R Cube Economic Consulting, said he had been warning about dwindling diesel reserves for six months but had been largely ignored. Now his concerns are realized.
Article content
"I've watched inventory levels go down and down in the summer — usually in the summer, inventories build, they don't go down," the Calgary-based oil and gas analyst said. "I knew it was coming. The problem is that we should have proactively controlled the download."
Article content
He said diesel reserves have never been so low in Canada. It's a perfect storm of bad circumstances.
Out of the pandemic, there has been an increase in demand for gasoline as North Americans have significantly increased their travel. To account for this, refineries that could switch from diesel to gasoline production did so. Meanwhile, Russia invaded Ukraine and many countries stopped buying Russian fuel which also led to a squeeze in natural gas supplies in Europe and prices jumped. This has placed a greater demand on diesel for heating.
Article content
At the same time, Latin America had their winter and their demand for diesel for fuel and heating increased, depleting North American supplies.
Muralidharan said the impacts have been buffered recently due to lower demand in China due to COVID-related shutdowns. That has freed up some global supply, but that will dissipate as China reopens.
Article content
Over the last few years, more refineries with diesel capacity have shut down than have come online, leading to reduced production levels. Long an expensive, taxpayer-funded boondoggle, the Sturgeon Refinery outside Edmonton is one of the few built in North America in the past 20 years. It was overshadowed by the closure of two refineries in the Philadelphia area before the pandemic and one in Newfoundland and Labrador.
Article content
Demand has now returned to pre-pandemic levels in Canada and is poised to increase for the winter months due to the trucking industry and parts of Atlantic Canada still using diesel for heating. However, inventory levels are not there to support the increased demand in the long term.
Refineries have switched back to producing diesel, but Muralidharan, who has studied energy markets for the past 20 years, said it was probably too late.
The other indicator to watch is how long the gasoline supply lasts with the refineries switched to diesel.
Where this is most noticeable to the average consumer is the price at the pump, where diesel and regular gasoline are usually separated by a few cents. Now in Calgary, diesel is about 46 cents a liter more expensive, according to fuel monitoring website GasWizzard.ca.
Article content
Dan McTeague, president of Canadians for Affordable Energy, said diesel is being hit even harder by the federal carbon tax than gasoline at almost three cents a liter more. On April 1, the carbon tax on diesel will jump from 14 cents per liter to 17.
He said the fuel has undergone a transformation in recent years to be more environmentally friendly and it remains a workhorse fuel.
"Diesel is the Rodney Dangerfield fuel, it doesn't get any respect, but it's very important – you don't do much without it," said McTeague.
He said the price of diesel has doubled in the past year.
Atlantic Canada will be hit harder than Western Canada due to its reliance on diesel for heating. Diesel was a dollar more expensive per liter in St. John's, Nfld., than in Calgary.
Article content
There is the potential for it to hit the city's bottom line as well. The city of Calgary uses 25 million liters of diesel per year, 60 per cent of which is for public transport – Transit currently operates 840 diesel buses. A city spokesperson could not disclose how much they spend on diesel, as it is secured through a confidential competitive bidding process, but is still based on wholesale end shelf prices and experiences the same price fluctuations.
Calgary Board of Education, meanwhile, offset increases in the cost of fuel by partially reinstating their transportation fees.
According to Muralidharan, Canada does produce more diesel than he needs, but it is the export market that he struggles to keep up with. He does not support the government stepping in with rationing or other measures that limit the flow of Canada's diesel to other jurisdictions.
Article content
Regardless, Albertans will end up paying the global commodity rate regardless of whether it is refined here.
For those who don't drive a diesel pickup, it will still hit them in the wallet when they go to the grocery store or buy gifts for Christmas, in the short term.
"The change in energy prices has been so high that it has to be passed on even by the service sector because it's still a big input into their own costs," said Alberta Central Chief Economist Charles St-Arnaud.
In the long term, this will continue to drive inflation, which will require additional increases in the Bank of Canada's overnight interest rate targets.
Interest rates have already been raised by 350 basis points to 3.75 percent since March. The continued high inflation — 6.9 percent nationally and 6.8 percent in Alberta — has many economists predicting a recession in the first two quarters of 2023.
Muralidharan said diesel-fueled inflation will push Canada even closer to a recession and the central bank's response will determine how bad it gets.
"This will cause a massive slowdown next year. It has to because I have never seen interest rates rise so fast in my lifetime," he said. "You're going to see a recession coming, how severe or mild will depend on how current economic activity responds to the rise in inflation."
jaldrich@postmedia.com
Twitter: @JoshAldrich03