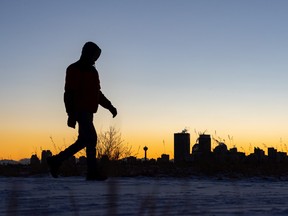 Article content
Since the untimely death of her twin 17-year-old sons, Shauna Caldwell has written articles about grief and faith. Jordan and Evan Caldwell died in 2016 in a very public accident at Winsport Bobsleigh. Shauna seeks to navigate her grief with authenticity, so that others who are grieving can find hope and help for their journeys.
Article content
Will you be staring at an empty chair this Christmas?
The holiday season evokes memories and expectations of joy, fun and celebration. But for the bereaved – those who have had loved ones die – December 25 approaches like a long winter shadow. We are uncomfortably aware that all is NOT well in our lives, and the holiday season is going to reinforce that.
As someone who has experienced loss, I look back and see that the younger I was I didn't understand grief. I thought that the graveside service of my twin sons would bring closure. In retrospect, it was just the beginning of a long and confusing grief journey—an involuntary journey that can feel like a life-and-death struggle for survival.
The word "sorrow" literally means "to be torn apart" or "special needs." The extreme emotions of grief are challenging to deal with or mitigate. All of this is compounded when the world is talking about their fun vacation plans and all you can think about is your missing spouse, child, family member or close friend.
Article content
Grief is very hard work! Grief is like moving large piles of dirt back and forth with a small plastic beach digger It can feel so exhausting and unproductive. Can you relate? To heal after loss, a person must tend to their grief. We desire to run away from, to numb or to medicate away the unwanted emotions, but it is much healthier to face them head on!
Lean into the sadness. Admit it. Be inclined to it. As we allow for expression of these uncomfortable feelings, a healthy healing process begins.
What exactly is the bereaved working hard on? We struggle with how to move away from a "relationship of presence" to a "relationship of memory". It is difficult to accept that a loved one is no longer physically with us. How do we move forward without them in our lives? When that loved one died, they took a big piece of our heart with them.
Article content
The move to a memory relationship doesn't happen overnight. It's a long process, and Christmas tends to be a time when we struggle with it the most.
Don't get overwhelmed by the holidays. The greatest struggles in our lives can lead us down paths of unexpected hope.
Just for your design, I would like to invite you to a free concert on Tuesday, December 6, called Tidings of Hope. No tickets are required to attend.
Music has a powerful way of ministering to our hearts. Each song at this concert was carefully chosen for comfort and hope — to drown out the edgy, visceral emotions of heartbreak this holiday season.
The doors of First Baptist Church (1301 – 4th Street SW) open at 6:30 pm on Tuesday, December 6th. The vocal music starts at 18:45
Article content
There will be a memorial service, and the special music will be provided by Prairie College. Guest speaker, Bob Dobson, will share his story of victory – after a tragic car accident crushed his body and claimed the lives of both his wife and mother.
Know that the people hosting the concert are also sad. In December 2016, Jason and I felt great anxiety about the first Christmas with two empty chairs. We attended a similarly themed concert of hope, and it was very important to carry us through Christmas. Six years later, we're paying it forward and hosting a concert to: 1.) acknowledge loss and 2.) give hope to other bereaved.
It is important to note that those of us hosting the event are grieving ourselves. Jason and I experienced the death of our twin sons, Jordan and Evan, in 2016. We also felt great anxiety about the first Christmas with two empty chairs. We attended a concert with a similar theme of hope, and it was meaningful to carry us through Christmas. Six years later, we pay it forward and present a concert that has this goal: to acknowledge loss and give hope to other bereaved.
Article content
Calgary has experienced a lot of losses lately and this concert could make a positive impact. It's a night for self-care. We will honor the memory of our missing loved ones. It will be a space where tears are welcome.
This is a time of normalization of sad emotions. When we are with others who are grieving, we realize we are not alone in this journey and that we are not going crazy! This concert is a place to come and receive hope, comfort and strength from sources outside of ourselves.
After the concert there will be a free coffee and dessert reception. More details are at www.tidingsofhope.ca or available by email contactus@tidingsofhope.ca. Parking is limited. Consider taking transit, taxi, Uber, or carpooling with other people.
Consider this your special invitation to join us for Tidings of Hope. Plan to come and receive. Be ready for Christmas.