A deadly disease that ravaged feral rabbit populations in Calgary earlier this year threatens to do the same in Canmore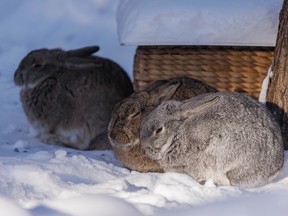 Article content
A deadly disease that ravaged wild rabbit populations in Calgary earlier this year is threatening to do the same in Canmore, experts warn.
Article content
Rabbit hemorrhagic disease is a fatal and highly contagious condition that specifically affects lagomorphs – rabbit and hare species. Increased reports of dead rabbits began appearing in Canmore by November – two of the animals tested positive for RHS when examined at the University of Calgary.
Article content
"The virus is associated with very high mortality rates anywhere from 40 to 80 percent – in some publications, closer to 100 percent mortality rates," says Dr. Jennifer Davies, a veterinary pathologist and director of diagnostic services at the University of Calgary. faculty of veterinary science. "I think we can expect a significant impact on the rabbit population in the area."
According to its website, the City of Canmore considers feral rabbits — populations of which grow from improperly released or escaped pet rabbits — to be an invasive species. Those rabbits are trapped and killed by the town's feral rabbit management system.
Article content
The biggest concern about the disease, specifically the RHDV2 strain that is spreading, is that it could infect native species such as foxes, mountain cottontails and snowshoe hares – animals important to the local ecology. If the disease spreads to those species in large numbers, it can have an effect that goes up the food chain.
"These guys are connected to a functioning ecosystem," says Dr. Margo Pybus, a provincial wildlife disease specialist with Alberta Environment and Protected Areas. "They are a very important prey species that many other wild species would rely on for food."
Rare disease wiping out feral rabbits in Calgary, tests confirm

'Bunnies attract cougars': Canmore renews efforts to control pesky rabbit population

Rabbit rescuers are calling on the city to take humane action against growing Calgary colonies
Pet rabbits in the area may also be at risk. Pybus said pet owners should be careful about what they ingest on their boots or clothes at their homes and disinfect if they walk through an area where wild rabbits have died.
Article content
"Pet rabbit owners, they know about this virus. They know the risk and are pretty scared of taking this virus back to their pet rabbits," Pybus said.
Davies said RHD is typically rapid in its course, spreading between populations of rabbits and hares via blood and feces. Often the only signs of the disease are sudden death and bloody noses caused by internal bleeding.
"One positive thing is that this is not a disease that affects humans, nor does it spread to our other companion animals or our livestock species in Alberta," she said.
RHDV2 is a relatively new virus in North America, where it has emerged sporadically since 2016, often without an epidemiological link between outbreaks, Davies said. Canadian cases began to emerge in 2018, with smaller outbreaks of the disease noted in Taber and Edmonton, Alberta, in 2021, before Calgary's larger outbreak this fall.
Article content
As for mitigating the disease, Pybus said there is not much the province can do, except to keep an eye on it. She urges residents to report sightings of dead native species to local officials or the province.
"They will be our canary in the coal mine to let us know that this virus is sweeping through," she said. "About all we can do is document it and then put information out there to try to prevent it from spreading, people moving it from this area to yet another area."
While the outbreak among rabbits in the Bow Valley is of the same strain as the one in Calgary, Davies said there is currently no connection between the spread of the disease in the two areas. She noted that while reports of dead rabbits have decreased recently in Calgary, they are still monitoring the situation.
"We're hearing more about what's happening in Canmore," she said. "But that doesn't mean the situation in Calgary is resolved."
mrodriguez@postmedia.com
Twitter: @michaelrdrguez