The Alberta Teachers' Association warned this fall that students won't have the necessary foundations for the new curriculum — a scenario now playing out in real time, parents say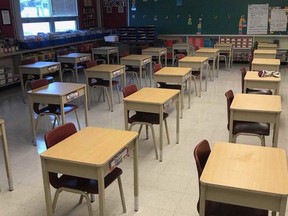 Article content
Parents at a southwest public school say some children are struggling so much with the new math curriculum that it is affecting their mental health and academic confidence.
Article content
After the final launch of UCP's new K-3 curriculum this fall, some schools, including Dr. Roberta Bondar at the Calgary Board of Education, now volunteering to pilot the new math curriculum for grades 4 to 6.
Article content
But Levon Yon, who has a son in grade 5 and a daughter in grade 6 at the school, says the pilot has made math very stressful for students who are expected to grasp concepts one or two grade levels ahead, after children never grasp concepts was taught to prepare. them last year.
"For my daughter, it's getting to the point where it's really starting to affect her mental health. She feels very anxious about her grades, and it's starting to hurt her confidence in school," Yon said.
"I am really concerned about this level of stress and anxiety at this stage of her development. She's doing 7th and 8th grade math, algebra concepts, where students haven't spent any time on the foundations to get there."
Article content
Yon's son, who has always been particularly strong in mathematics, also struggles with a subject he used to enjoy.
New PM must fill gaps in student mental health support, as promised: experts

Calgary Board of Education abandons much of its summer schooling, adds fall break

School boards are trying to reduce large gatherings amid high illness rates
"My kids have never had these challenges in math before, so I asked the teacher how they were doing compared to the rest of the class, and I was told that everyone was struggling."
Parents received correspondence last spring that the school, in the southwest community of Strathcona Park, would voluntarily pilot parts of the draft curriculum for students in grades 4 through 6, a decision Yon said was made without any stakeholder involvement.
Article content
He said this is especially troubling at a school where the latest demographics, provided to a recent parent council meeting, show 40 percent of students have special needs and another 30 percent are English language learners.
"This means we have many families where the parents may not be able to speak the language very well, and they will not be able to advocate for their children as I can.
"So how will they cope if their children struggle with the new curriculum?"
At this fall's parent-teacher interviews, Yon and his wife asked about the new math curriculum and whether the school should introduce it with so little planning and preparation. They were told that teachers were not allowed to give an opinion on the pilot.
Article content
Yon sent an email to the principal asking for information about what led to the school's decision to launch the curriculum and how the school is reducing the risks students now face. He has not yet received those answers.
"I've had other parents approach me about this and they're also getting more and more worried."
Yon said the principal requested a private meeting with him, but Yon refused, saying the curriculum issues were not a confidential matter and were not just about his children.
He also reached out to CBE officials but was told he had to go through a "complaints process" to have the matter heard by the head's director.
CBE spokesman Bryan Weismiller said "we are listening to the concerns raised at Dr. Roberta Bondar School, as parents play an important role in their child's success."
Article content
But Yon says administrators don't see the urgency of the issue, and students continue to struggle.
"I am deeply concerned about our children's mental health as I begin to see the consequences of the incredibly poor implementation of the draft curriculum in our school.
"And now I've heard from other parents who share similar concerns. My children and their friends and peers are subjected to enormous stress due to poor planning and implementation."
Yon also pointed to the minutes of a parent council meeting from early November where a 5th grade teacher expressed concern that children were not mastering math concepts, there were gaps in knowledge and that those gaps would be reflected in student evaluations.
Earlier this fall, the Alberta Teachers' Association warned that the UCP government's new curriculum could create major challenges because it was being implemented too quickly, without giving students the necessary foundations.
Article content
But UCP officials say they are committed to piloting and implementing the curriculum with a measured approach, which is why K-3 was mandatory and grades 4 through 6 were optional this fall.
"In the new math curriculum, starting in kindergarten all the way through grade 6, students increasingly learn about numbers and operations, measurement, geometry, algebra and statistics, gradually advancing their skills," said Emily Peckham, press secretary for Education Secretary Adriana LaGrange.
Peckham added it Alberta Education has set aside $59 million to support curriculum implementation in 2022-23, including teacher professional learning and quality instruction and student resources.
eferguson@postmedia.com