Calgary's Southern Alberta Institute of Technology (SAIT) sports teams are doing without a home to call their own now that its sports and recreation building is closed.
SAIT closed its Campus Center earlier this year to make way for a new building, but the Campus Center Redevelopment Project is not expected to be completed for another four years. The SAIT Trojans, which have about 250 athletes, are paid because athletes travel from place to place for games.
Jeff Carreos, the captain of the men's volleyball team, says it was an adjustment. When his team heard the building was closing, he said it was "a tough pill to swallow."
"It's easier on campus to just hang out and go straight from class to practice," Carreos said. "The commute is sometimes a bit difficult, especially in the winter [starting] up now But I think it also brings your team closer in a certain sense."
Related stories:
SAIT students look at new jobs at De Havilland Field

Understanding brain structure identifies reading disabilities: UCalgary study
The Wellness Center is still available to students during redevelopment, but the Trojans had to find different locations for their respective teams.
"We just don't have a home gym, [we're] always moving around, which is perfectly fine. And I think for the younger guys it's a little bit different. Because usually you like to get your roots planted first wherever you start playing, but definitely, everybody has experience with that," Carreos said.
"It's just getting comfortable being uncomfortable is the thing."
Wade Kohmel, SAIT Trojans athletic director, says everyone has been "affected in one way or another" by the closure.
"They (the athletes) are used to meeting on our front porch at COHOS Commons — the football teams, but it's a different environment when you're apart of some construction, fences and other things of that nature," Kohmel said .
"The physical fitness and the training that does happen, the yoga studio, things of that nature. It affects every program a little differently."
Before the city was hit with snowfall On Wednesday, the Trojans Men's Soccer team defended their 2021-22 Alberta Colleges Athletic Conference (ACAC) championship title with another title on Monday.
College teams work to 'overcome obstacles'
This past year there were restrictions for the Trojans due to the COVID-19 pandemic, according to Kohmel, and the year before that there was no athletic play. The 2022-2023 season is the first where college play is completely open.
"It's very busy. Restarting sports out of the pandemic was a challenge, and responding to a facility change was another challenge. So we just became part of an ever-growing group of local users trying to get more ice time, more court time, things of that nature," Kohmel said.
Kohmel says the volleyball teams travel to some community centers like Rally Pointe, and to the University of Calgary (UCalgary) Dino's Varsity Court to practice and play their home games.
SAIT's basketball teams have a similar arrangement and play at UCalgary's Jack Simpson Arena. The Trojan hockey teams play out of Winsport Arena B.
"To adapt and do a move of this nature … I've seen the best in people," Kohmel said. "You have to be agile, and I would say have permission to make a mistake."
Carreos says it's been a challenge since there are people, fans and players, who live on campus and can't take a 30-minute commute to games.
Home games usually have a section dedicated to friends and family, and alumni. Because the games are not at home, Carreos says it is difficult with "the same feeling or layout".
"It's a different kind of atmosphere when you have a bunch of people cheering for you instead of against you. So you hope to see more people come out," Carreos said.
Regardless of home field advantage or on the road, winning is more than "coming out on top," according to Kohmel, saying it's about teams "overcoming obstacles."
"When you look at a facility-related challenge, that's just another part of the experience. And it can go a long way in being competitively excellent if you choose to look into that," Kohmel said.
"And I know, it's a lot of work, and it takes more time. And it might take more gas and all that type of stuff. But when you really work to belong to a team and belong to something bigger, you kind of get out of it, what you put into it."
Carreos agrees. He says it's part of the package when athletes join a sports team.
"Going into the season, you know, it's not going to be what you might be used to in the past. But you also learn to accept it," Carreos said. "We've had guys committed all along, and we're still committed."
"When you get more guys on the same page, you have to talk a lot more about who's taking who. You have to share the workload more," Carreos said.
---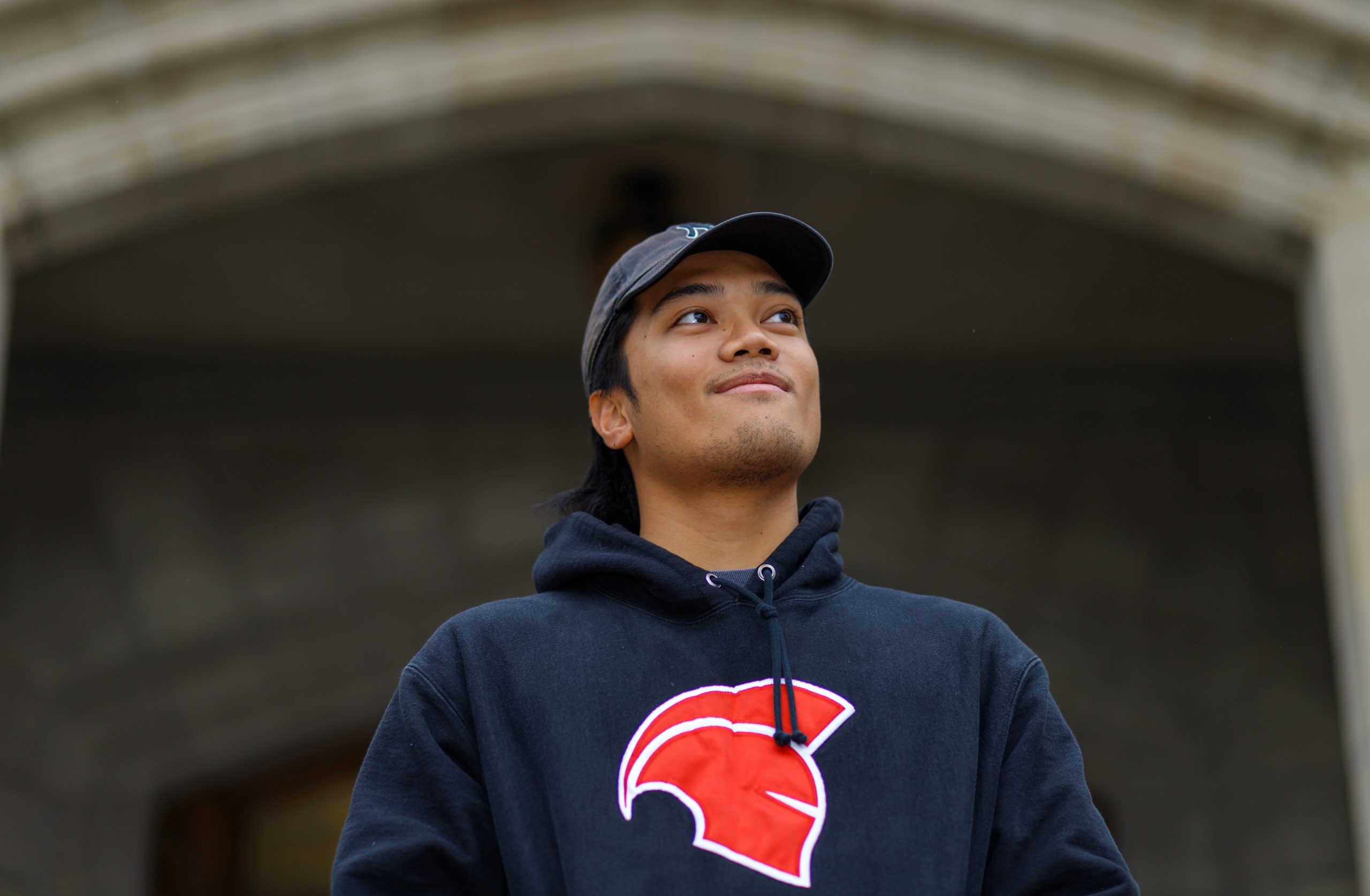 While Carreos will graduate in 2023, he says he wants to see a "utopian world for student-athletes" so they can have a place to belong.
He also hopes that the legacy of the Trojans will continue to be highlighted in the new building, and worries that the memories will fade when they are gone.
"It's a superstitious thing," Carreos said. "But I really hope that SAIT emphasizes that this is a new era and that they are going to enter this new building. And it will be good for the school and the community."
"It is very important to remember any community's past. Your culture, your team culture, your past, the way you do things, and your standards through storytelling."
The captain says he has played with many great athletes who have achieved great things on the European circuit, and he wants to see those stories continue in the new building.
"I don't want that to be lost with any of the new guys. Those stories need to be told, and I would love it if everyone could be remembered in that kind of sense."
Carreos says his volleyball career has come "full circle" since he started playing volleyball at Rally Pointe Court when he was 14 years old.
"Now I finish my university career there. So it's pretty cool in that sense," Carreos said.
SAIT was in discussion with the Trojans about setting up community spaces for the athletes at SAIT Residence.
"We plan to make some of those areas available to all SAIT students for fitness, recreation and socialization," SAIT representative Jill Purdy said in a statement. "With these blanks, the Trojans would have future access for their team function should they sign them out."
The Trojans are coming off their 2021-2022 athletic season with multiple collegiate victories in cross country and men's and women's soccer and futsal.
Most notable was the men's basketball team winning the title for the fifth straight year, which came after the death of The 31-year-old Trojan athlete John Smith. The Trojans honored Smith and his No. 11 on their way to the championship.
The post Calgary SAIT Trojans adjust to athlete building closure appeared first on CityNews Calgary.