Article content
A vandalism attack on a charity which helps the disabled will divert much-needed resources to deal with it, its operators say.
Article content
Sometime early Thursday morning, vandals graffitied 13 locations of the complex that houses the Vecova Center for Disability Services and Research at 3304 33 St. NW hosts
Article content
The center offers programs and jobs for Calgarians with disabilities that include bottle recycling.
"They marked a lot of the building, a side door and a trailer that we use," said Kyla Martin, chief development officer of Vecova.
"It's so disappointing because it's not cheap to be removed – these are resources we need for other areas and the disability community is not one that normally has a lot of funding. It's not something you want to see around Christmas."
Police are investigating the vandalism, which includes reviewing footage from cameras, but it's still unclear how many culprits were involved, Martin said.
Article content
"It's definitely more than one person," she said.
The graffiti appears to indicate group insignia, but one word left behind was "trash," Martin said.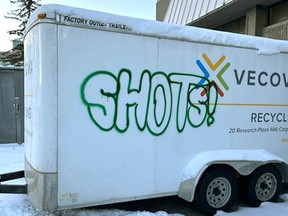 "We offer a place of belonging to persons with disabilities and the community," she said.
"The building itself has been a part of some of our consumers' lives for over 50 years – many of whom have lived at our main facility for many years. To see this senseless act of vandalism in a place they love can be upsetting and confusing."
It's important to have the tagging removed quickly, Martin said, so as not to encourage further vandalism.
Vecova officials have not yet put a price tag on the damage, but are asking the public to donate to cover the cost of repairs.
Anyone who wants to donate can call 403-284-1121 ext. 308 or go to donations@vecova.ca.
BKaufmann@postmedia.com
Twitter: @BillKaufmannjrn