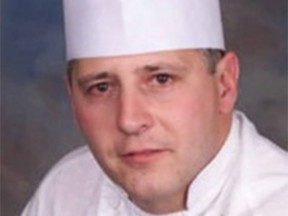 Article content
The widow of murdered Calgary chef Christophe Herblin says she is overwhelmed with grief over the loss of her "person".
Article content
In a victim impact statement read during the sentencing of his convicted killers, Jean Herblin said she was struggling to move on with her life.
Article content
"I am broken," she said in the document read by Crown prosecutor Carla MacPhail.
Jean Herblin was not present in court, but asked that the prosecutor read her statement.
"I can't sleep and anxiety overwhelms me," she wrote.
"I've had enough. If there's one lesson in all of this, it's 'don't wait.' Don't wait to tell someone you love them. Don't wait to spend time together. Don't wait until retirement, you never know what tomorrow will bring."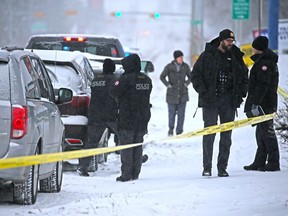 Herblin was fatally stabbed by Anthony Dodgson after the chef was lured out of his under-construction French bistro by Dodgson's henchman Tommie Holloway.
Article content
Dodgson was convicted by a jury of second-degree murder, while Holloway was convicted of manslaughter in connection with Herblin's death on March 14, 2020.
The chef went to his Croque Saveurs restaurant in response to an early morning burglar alarm. The killers broke into his shop hoping to gain access to an adjacent pot shop.
Herblin remained at the scene after police arrived to investigate and left when the offenders returned to find his car still parked outside.
Holloway smashed the windows of the car before walking away and when Herblin came out of the restaurant, Dodgson attacked him.
Murder victim's wife replays his last morning in her mind
The dead man's widow said she was troubled by the events of that morning.
Article content
"I keep replaying that day in my mind. What if I asked him not to go? What if I had gone to the store earlier to check on him? My feelings of guilt are sometimes overwhelming."
She said Herblin made the world a better place.
"Christophe was my person," she said.
"He was kind, generous, gentle. We built a life together and we supported each other. We worked hard to make our lives better and I miss him terribly."
One man guilty of murder, another of manslaughter in killing of Calgary chef: jury

Police file murder charges in the slaying of Calgary chef at his soon-to-open deli
MacPhail suggested that Dodgson's actions warrant a parole ineligibility period of 15 to 18 years on his automatic life sentence.
"The primary (sentencing) principles in this case are conviction, deterrence and public protection with respect to Mr. Dodgson," the prosecutor told Judge Blair Nixon.
She said Herblin was "a vulnerable and completely innocent victim (and the crime was) committed with the intent to commit (another) offense."
But defense attorney Robin McIntyre suggested a parole ineligibility of 10 to 12 years would be sufficient.
Nixon will hear sentencing for Holloway on Friday afternoon.
KMartin@postmedia.com
On Twitter: @KMartinCourts