Over the past 10 years in Alberta, drunk driving has claimed more than 500 lives and injured about 7,000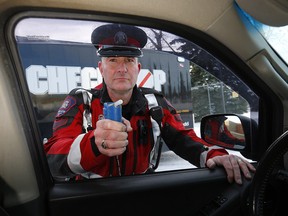 Article content
After a horrific fatal crash on Deerfoot Trail last week, Calgary police say they are making several efforts to prevent drunk driving on city roads, including increased checkpoints and patrols over the holiday season.
Article content
Staff Sgt. Robby Patterson, the top officer in Calgary police's traffic division, issued a plea to Calgarians Wednesday to drive sober through the holidays as part of the force's Impaired Driving Month. He said over the past 10 years in Alberta, more than 500 people have died in a drunk-driving crash – a rate of nearly one every week – more than 7,000 have been injured and "tens of thousands" of lives and families have been affected.
Article content
"Most of this can be attributed to a choice," he said. "When you're going to drink, when you're going to use alcohol or when you're going to use drugs, make sure you have a plan to get home safely."
Patterson said the number of impaired driving charges had risen over the past few years, reaching 1,500 this year – an increase he attributed to law changes in 2020 that gave police more power for immediate road license bans.
Article content
"It's easier than ever for our officers to be able to process these charges quickly, and as a result we're seeing an increased presence," he said.
New survey shows people think they are disabled – but drive anyway

Families mourn young Alberta couple killed in crash with alleged impaired driver
Calgary police are also working with other local law enforcement agencies — including Tsuut'ina police, the Alberta Sheriffs Highway Patrol and the RCMP — to crack down on impaired drivers. Last Saturday, the agencies combined for what Patterson called the "largest checkpoint in Alberta history," involving more than 40 officers.
"We took 13 impaired drivers off the road that night and sent the message to Albertans and to Calgarians that we don't want you driving impaired; we want you to drive sober," he said.
Article content
The "absolute worst outcome" of driving under the influence was illustrated in last week's fatal crash on Deerfoot Trail, Patterson said.
Officers were called to the scene of the two-vehicle collision in the southbound lanes of Deerfoot between 32nd Avenue NE and 16th Avenue NE at approximately 3:15 a.m. on Dec. 2. a vehicle was traveling southbound, and alcohol and speed are believed to be factors in the crash.
"We have someone who . . . minding their own business running perfectly legal and legitimate, who end up losing their life," he said. "It was also very tragic and victimized a number of other people within the family. And not to mention the first responders who had to come to that."
Article content
Court documents identify 27-year-old Imanpal Singh Shergill as the victim of the collision. A friend of the victim said Shergill was never one to touch alcohol.
"He hated alcohol; he never drank. Ironic that he was hit and killed by a drunk driver — I still can't believe it," said the friend, who declined to give his full name.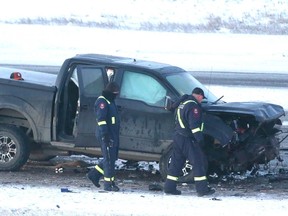 "People should not drink and drive at all . . . A lot of people will just ignore it because they think, 'I can just go ahead and ride the way I want, live my life the way I want' – that's cool. But when it endangers the life of another, that is where the problem lies."
Red Deer resident Tyson Tyler Giroux, 29, is charged with impaired driving causing death, dangerous driving causing death and refusal to provide a breath sample.
Police urge anyone who sees a drunk driver, or suspects someone may be driving under the influence, to call 911.
"Distracted driving is a crime and it's a dangerous crime," Patterson said. "So we want to encourage you to call 911; don't wait on the non-emergency line if you see someone you feel is at risk."
mrodriguez@postmedia.com
Twitter: @michaelrdrguez