"Anything that creates uncertainty unfortunately discourages investment," said Perrin Beatty, CEO of the Canadian Chamber of Commerce.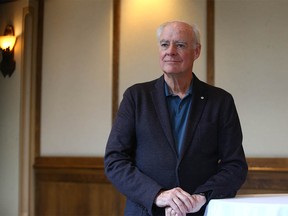 Article content
Premier Danielle Smith has told early critics of her sovereignty law to wait until it is drafted before making a final judgment.
Article content
Well, the Alberta Sovereignty within a United Canada Act was introduced in the legislature this week.
Article content
Early reviews from the business community are decidedly mixed.
With billions of dollars in investment proposed for the petrochemical sector, clean technology, oil and gas and manufacturing, the business and investment community is watching closely to see how this political maneuver plays out in the real world.
"Anything that creates uncertainty unfortunately discourages investment," Perrin Beatty, chief executive of the Canadian Chamber of Commerce, said in an interview from Ottawa on Thursday.
"It does create uncertainty, because where there is a prospect of having a fight between two levels of government – ​​where matters can be caught in the middle – matters just don't know . . . what the impact will be. It is therefore important that the two levels of government work together."
Article content
The law, a marquee promise Smith made during the UCP leadership race, was the first piece of legislation introduced by her government.
It would allow Alberta to fight federal legislation or programs the legislature deems unconstitutional or "adversely affects Alberta's interests."
If MLAs debate and pass a motion stating that an Ottawa initiative is harmful or unconstitutional, a minister can issue directives to provincial entities – such as Crown corporations or municipalities – not to enforce the policy.
The UCP government stressed that the legislation would not force businesses or private individuals to break federal laws, and that it would respect court rulings.
Smith said the legislation "pushes Ottawa back into its own lane."
Article content
"We tried different things in the past and they didn't work. So, we have to try something new," she told reporters this week.
Yet the economy is growing. Key industries attract significant investment and create jobs.
Braid: Smith's Sovereignty Action troops are uneasy about following her into battle

'A gimmick': Liberal Calgary MP rejects sovereignty bill, calls on province to work on issues of the day

'It could cause us problems': Alberta's sovereignty bill could deter investment, Calgary Chamber says

Alberta's economy to grow more slowly in 2023 due to inflation and interest rates: Report
"Any change, until it's resolved, creates uncertainty and investors look for returns in exchange for risk — and risk is another word for predictability," said Brian Boulanger, CEO of Calgary-based ARC Financial Corp.
Article content
"It's just too early to know (its impact). Wait and see – stay tuned."
Deborah Yedlin, CEO of the Calgary Chamber of Commerce, said Wednesday she is concerned the act could hurt investment appeal and the province's ability to attract more skilled workers to Alberta.
Other groups and business leaders are not so concerned.
Investors and companies are focused on tax rates and talent attraction, not disputes over legislation clarifying jurisdictional authority, said David Knight Legg, senior adviser to the board for Invest Alberta, the province's economic development corporation.
"It's such a family sandwich fight between the Feds and the province. Investors are not focused on this one iota," said Knight Legg, one-time chief adviser to Prime Minister Jason Kenney, who was an early critic of the sovereignty law.
Article content
"Not one investor called to ask about it . . . It didn't scare investment at all."
Jason Leslie, chief operating officer of the Alberta Chambers of Commerce, said the law appears to have resolved some issues initially flagged as potential concerns by clearly affirming the importance of the Constitution.
Yet it is important that this brewing battle between governments does not hinder planned investment.
The Conference Board of Canada released a new report Thursday that predicts Alberta's economy will expand by 2.8 percent next year; it predicts that business investment in Alberta will grow by nearly five percent in 2023.
The province has successfully attracted a number of large-scale petrochemical investments over the past 24 months through its new incentive program, although most still need the final green light from proponents.
Article content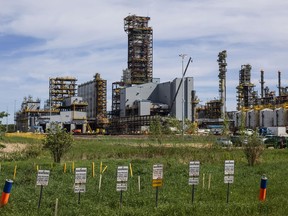 With growing global demand for petrochemicals, a dozen projects have been proposed representing more than $20 billion in low-carbon developments — possibly up to $30 billion, said Bob Masterson, CEO of the Chemistry Industry Association of Canada.
Masterson sees the "real threat" to investment coming from the American Inflation Reduction Act, and its array of incentives to attract decarbonization projects such as carbon capture and storage initiatives south of the border.
"The Sovereignty Act, on the face of it, seems to be aimed more at public-sector entities than the private sector, but there is some truth to what the chamber is saying, that if you look from the outside, it looks confusing and it creates uncertainty," he said.
Article content
"However, on the other hand, the dynamic between Alberta and the Government of Canada has not been very favorable and there needs to be something that makes that dialogue more productive."
The premier already wants her cabinet to prepare special resolutions under the law to conclude with Ottawa on laws that regulate Alberta's natural resources and economic development, such as Bill C-69.
The Impact Assessment Act is widely regarded by the province and the oil spill as a major impediment to the building of new energy infrastructure in the country.
It is too soon to say for sure that the law will repel investments. But it is also an unpredictable, volatile political issue.
If a conflict between both levels of government escalates and investors decide to take a break or recalculate their risks, it certainly won't help.
"It's all hypothetical. What are they going to do with the deed? How will Ottawa respond? That will be what determines whether it drives away investors or not," said Masterson.
"Ultimately, we will not attract these investments if both Alberta and Ottawa are not rowing in the same direction at the same time."
Chris Varcoe is a Calgary Herald columnist.
cvarcoe@postmedia.com