In a speech to the Calgary Chamber of Commerce, the new premier tried to be a fiscal conservative willing to invest.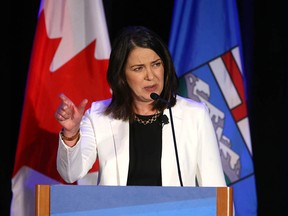 Article content
Premier Danielle Smith says she is prepared to use the Alberta Sovereignty Act to fight Ottawa over its attempt to limit emissions in Canada's oil and gas sector — or to require farmers to reduce emissions when they use nitrogen-based fertilizers.
Article content
And while she will try to implement more spending to help Albertans facing rising bills, Smith suggested she has no plans to turn on the spending taps in next year's budget, even as the province expects to record a whopping surplus of $13.2 billion this year.
Article content
In her first speech to the Calgary Chamber of Commerce on Friday, the new LCP leader tried to play her ground as a fiscal conservative willing to invest in new infrastructure, while also showing she was willing to work with the federal government to fight
The promised legislation that dominated the UCP leadership race this summer — to be called the Alberta Sovereignty Within a United Canada Act — could be used quickly on two fronts: Ottawa's efforts to curb emissions from the energy and agriculture sectors.
Article content
"They cannot take unilateral steps to phase out our industry. We have exclusive jurisdiction," Smith told a crowd of several hundred business leaders.
"This will be the first use of the Alberta Sovereignty Within a United Canada Act. One (case) would be, no, we're not going to arbitrarily reduce fertilizer use by 30 percent. . . And, no, we're not going to allow you to put an arbitrary cap on our oil and natural gas industry that would force them to cut emissions by 42 percent within eight years—we're not going to do that.
The speech and subsequent fireside chat with Calgary Chamber CEO Deborah Yedlin touched on a number of issues closely watched by the business community, including the need to attract investment and workers, and the ongoing federal-provincial tussle over the climate file.
Article content
Earlier this year, the federal government released a new emissions reduction blueprint for the country as Canada seeks to reach a net-zero target by 2050. It is also proceeding with plans to limit emissions from the oil and gas sector.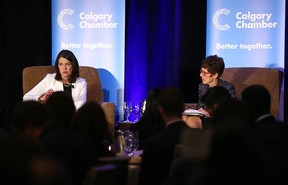 Ottawa estimates that total emissions from the industry will fall by 42 percent (from 2019 levels) by 2030, although details of how that will happen are still being developed.
However, it has drawn the ire of the industry, including members of the Pathways Alliance, a group of major oil sands producers who have committed to reaching net-zero emissions by 2050 but believe the interim target is unachievable.
The Liberal government is seeking feedback on two ways it can get there: through a cap-and-trade system that places a hard cap on industry emissions, or by setting an industry-specific carbon price that can be raised (above the national levy) to pressure producers to lower emissions.
Article content
Ottawa also raised the prospect of setting a 30 percent reduction in nitrogen-based fertilizer emissions as a goal, although officials said that would not be a mandatory federal target.
Smith said in an interview that she would first seek a solution that would use diplomacy before turning to the sovereignty law.
"If we can come to some kind of agreement that we all want to reduce emissions, but we're going to do it our own way in Alberta, then we don't have to use it," she added.
"But I've just heard way too much feedback from the business community about how devastating it would be to share value and the ability to attract investment if Ottawa were to go ahead with it unilaterally. So we have to protect our industry."
Article content
Link: Smith, who was incarcerated at the end of the Sovereignty Act, echoes a long history of Alberta government protests

Proposed emissions cap on oil and gas sector 'too ambitious': CNRL

Braid: Premier Smith promises quick relief for healthcare ills and inflation
The act aims to empower the province to refuse to enforce any federal law or policy "which attacks Alberta's interests or our provincial rights."
While provinces have jurisdiction over natural resource development under the Constitution, the Supreme Court of Canada ruled in 2021 that the national carbon price is constitutional.
On Friday, the heads of Treaties 6, 7 and 8 came out against the sovereignty law, calling it unconstitutional and illegal.
Article content
However, the message of the fight against Ottawa over energy policy will resonate in some corners.
Adam Legge, president of the Business Council of Alberta, said if the province completes its due diligence before triggering the legislation, he thinks it is defensible to use the oil spill emissions cap law.
"With the oil and gas emission cap, the two proposals are both terrible. Both will not work. Both will crush the industry. . . and so we would like to see this as an opportunity to exercise the rights of Alberta industry and the Alberta government," Legge said after the speech.
"It will be a good first test of constitutionality."
Yedlin said the cap "is not something that is not good for the province or for the country" because it would require one million barrels per day of production from the oil sands alone to be included.
Article content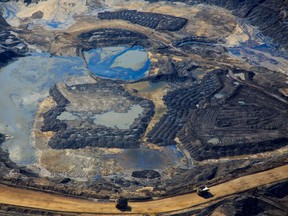 Smith also spoke on Friday about the economic outlook and warned of "stormy skies ahead," with rising inflation, supply chain disruption, higher interest rates and concerns about a global recession.
The government will have to deal with affordability issues affecting Alberta consumers, particularly through higher utility costs.
The premier also ruled out the implementation of a provincial sales tax, said she would like to see a long-term debt repayment strategy put in place, and would make sure the government does not significantly increase operating spending.
She pegged the province's annual structural deficit at between $8 billion and $10 billion.
"We also need to make sure that we don't lose control of spending growth from year to year just because we're in this era of higher incomes," she said.
"We are not out of the woods yet. We were saved by oil and natural gas revenues. And I'm grateful for that."
Chris Varcoe is a Calgary Herald columnist.
cvarcoe@postmedia.com