If now is not the time to sink cash into Alberta's rainy day fund, when will the magic moment arrive?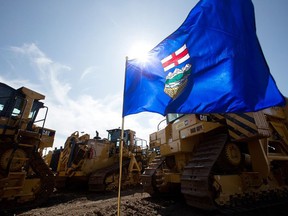 Article content
Calgary landscaper Mitchel Dyck made headlines this week for hitting a financial jackpot.
Article content
After collecting a $70 million prize in the Lotto Max draw, he spoke to reporters about his plans.
Article content
"Who doesn't want a fancy car, a fancy truck, a fancy house and things like that?" he said. "But we're going to put the money in the bank."
It seems like a sensible strategy: save an unexpected windfall and make a long-term plan.
That's the kind of good advice the Alberta government needs to heed as it gets budget payments dirty. The province on Thursday forecast a surplus of $12.3 billion for this fiscal year.
If we include last year's windfall bonanza and another $10.9 billion in projected surpluses for the next two years, that adds up to a staggering $27 billion in four years.
If now is not the time to sink cash into Alberta's rainy day fund, when will the magic moment arrive?
Article content
That's why it's puzzling to see Danielle Smith's government reverse course and decide to back away from plans her predecessor made in August to inject money into the Alberta Heritage Savings Trust Fund.
In the summer, the UCP government announced it would make the "biggest ever single-year investment in the Heritage Fund", retaining the account's investment income from last year and allocating another $1.7 billion.
On Thursday, the $1.7 billion was withdrawn.
That will now be up for grabs as the government considers what to do with future windfalls.
Jim Dinning, Alberta's former finance minister under Ralph Klein who saw the province tackle its massive debt in the 1990s, has advice on managing this windfall.
Article content
"Commit to growing the Heritage Fund, and (to) go out and sell Albertans on the importance of saving these non-renewable, never-again dollars from selling a barrel of oil," Dinning said. said on Thursday.
"It's a perpetual fund, and if you don't start now to strengthen the Heritage Fund and convince Albertans of its wisdom – in these times when you have surpluses coming from oil and gas revenues – when hell is are you going to do it?"
Exactly.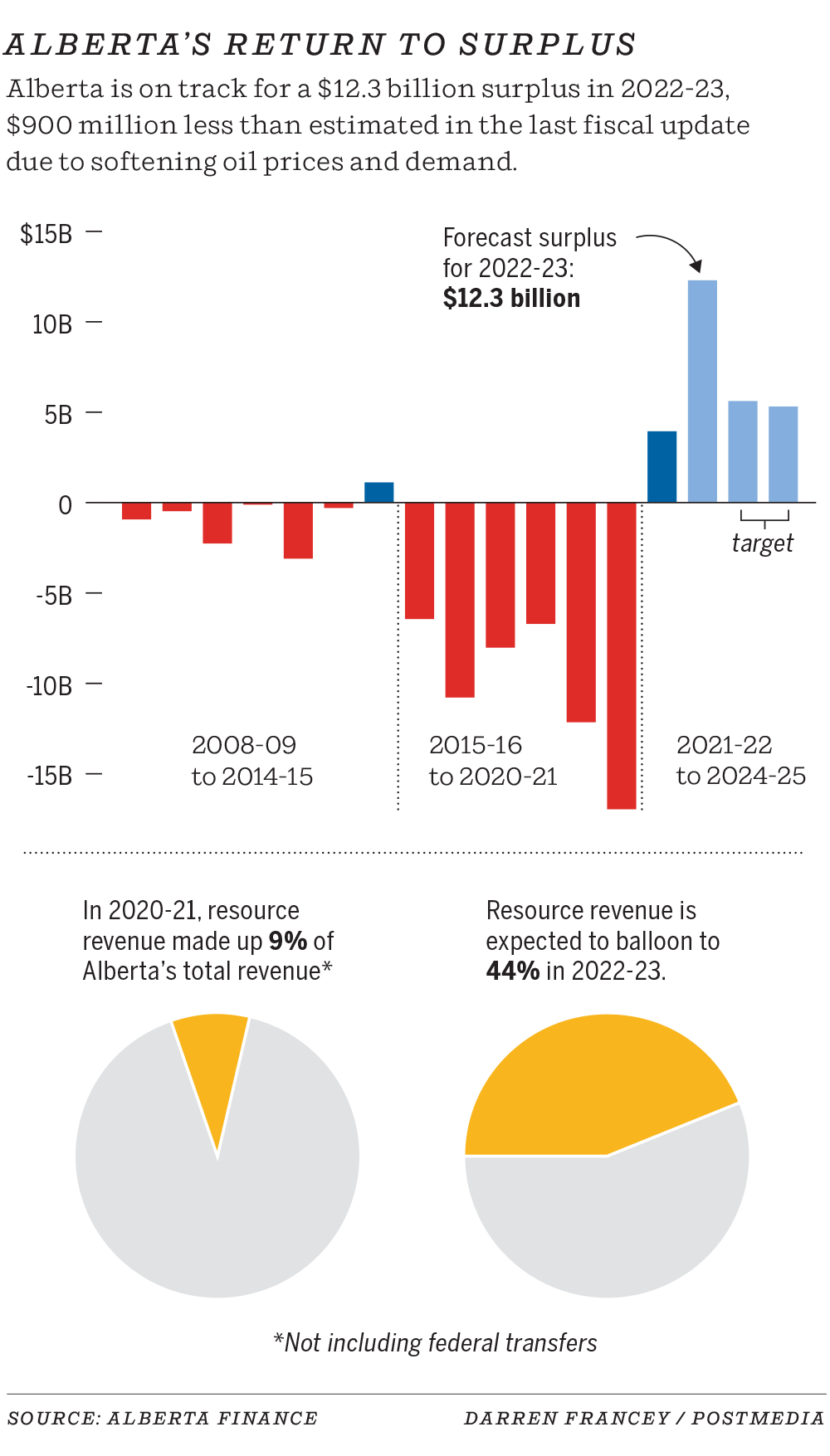 The government expects to collect an unprecedented $28 billion in revenue from non-renewable resources amid record production and rising energy prices.
That's a staggering sum – representing a whopping $6,185 for every person in the province, all flowing from energy revenue.
Article content
The government has choices to make. The province is already paying off debt, about $13.4 billion this fiscal year.
Some cash — about $2.8 billion over three years — is now earmarked for a package of measures to help Albertans facing rising bills.
There is still money left.
Varcoe: Global recession looms, but Alberta predicts continued growth through 2023, even with oil price risks

Opinion: Alberta should start absorbing a rise in resource revenues

Legge: Now that Alberta has another big income, where do we go from here?
Over the next three years, an estimated $5.8 billion in cash surpluses will accumulate and be available for debt repayment or savings.
Premier Danielle Smith noted on Friday that candidates in the recent UCP leadership race had different ideas about how much to save, invest in infrastructure or allocate for debt retirement.
Article content
"We still have a discussion we need to do," Smith said.
"I do believe that these kinds of decisions should be made through the right processes, as opposed to just the finance minister deciding or just the prime minister deciding."
While the process matters, the risk is that the money will become an attractive target for spending as a spring election nears.
"The step back itself has been notable because there isn't a constraint here that forces them to change their plans," said Trevor Tombe, an economist at the University of Calgary.
Alberta already has the lowest debt-to-GDP ratio in the country at just 10 percent, compared with 16 percent in British Columbia and Saskatchewan, and 38 percent in Ontario, according to RBC Economics.
Article content
However, the fund must be set up to grow and provide substantial dividends for future generations.
The Heritage Fund, created in 1976 by the Lougheed Government, was partly intended to save for the future. In the early years, 30 percent of provincial resource revenue was deposited into it, but this stopped by 1987.
Instead, about $43 billion in investment earnings flowed back into provincial coffers, according to the fund's latest annual report.
Provincial governments have considered taking away more cash in the past, but have never stuck with it.
This week's decision is another example of a lack of resolve.
While expanding the account to a massive size, like Norway's sovereign wealth fund, is often discussed, it could paint a target on the province's rainy day reserves, Canada West Foundation chief executive officer Gary Mar said a former provincial cabinet minister, noted.
Article content
Still, he believes a certain portion of budget surpluses should be saved create another source of provincial income in the future.
The Heritage Fund, with net financial assets of $17.9 billion at the end of September, reported a five-year rate of return of 6.2 percent.
With higher interest rates coming and extreme market volatility ahead, paying down debt may be a better short-term strategy than pushing additional money into the fund, although it should yield better results in the longer term.
However, it is also clear that governments of all types have a hard time saying no to short-term spending pressures.
"We don't know if we're going to have another boom like this," Business Council of Alberta chief economist Mike Holden said Friday.
Article content
"That's why there's a little more urgency to focus on long-term fiscal sustainability because we can get it right this time. This may be our last, best chance to get it at least partially right."
Thursday's decision may just be a temporary reprieve.
However, history has proven that when it comes to the Heritage Fund, every missed surge is followed by a bust and regret that more money wasn't put aside.
"The fact that our Heritage Fund is as small as it is today is Alberta's biggest missed opportunity," said Tombe.
"As for the future of the Heritage Fund, that remains – again – up in the air," Dinning added. "I am waiting with hope for the strengthening of the Heritage Fund."
Chris Varcoe is a Calgary Herald columnist.
cvarcoe@postmedia.com