"I believe we need to embrace additional tax benefits that are more geared toward securing those strategic growth areas that we all care about," Notley said.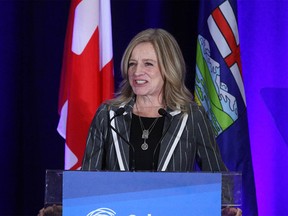 Article content
In the summer of 2015, one of the first steps Rachel Notley's new NDP government took was to raise the corporate income tax rate in Alberta to 12 percent from 10 percent.
Article content
Suffice it to say, the idea was not very popular with the business community. The head of the Calgary Chamber of Commerce at the time, Adam Legge, warned that raising the tax rate "would make the economic situation much worse."
Article content
More than seven years later, Notley wants to reclaim the job as Alberta's premier.
Now the opposition leader trying to oust Premier Danielle Smith in next May's election, Notley unveiled her party's new competitiveness, jobs and investment strategy, talking about ways to increase capital investment in Alberta.
However, during a sold-out luncheon speech to the Calgary Chamber on Thursday, she also did not rule out raising the corporate tax rate, which now stands at eight per cent after being cut by the UCP government.
Article content
"Make no mistake, my view on the current corporate tax rate and the overall impact it has had on economic growth has not changed. However, you can count on us to maintain the most competitive tax regime in the country," she told the crowd of about 350 people.
"I believe we should embrace additional tax benefits that are more focused on securing those strategic growth areas that we all care about."
The NDP economic blueprint, which was discussed during the chamber address, calls for the introduction of a new Alberta futures tax credit aimed at emerging sectors, offering a 10-year refundable investment tax of between 20 and 30 per cent.
She will speed up the regulatory process for reputable companies, expand the province's petrochemical incentive program and consult on the expansion of the UCP government's Alberta Indigenous Opportunities Corp., which provided loan guarantees to help indigenous communities take ownership stakes in energy developments. buy.
Article content
Notley reiterated that if she wins the provincial election next year, she will torpedo Smith's controversial Alberta sovereignty law.
However, it was the tax rate issue that caught the attention of several business leaders in the audience.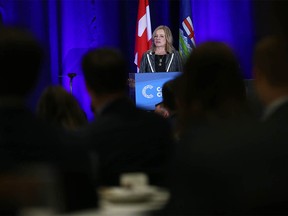 In March, NDP MP David Shepherd accused the UCP of taking office with a "$4.5-billion corporate giveaway."
Alberta has the lowest corporate income tax in the country.
In Ontario and Saskatchewan — the next lowest — the general corporate rate stands at 11.5 percent, compared with 12 percent in British Columbia and Manitoba, according to PwC Canada.
Theoretically, there would be room for the NDP leader to raise Alberta's rate back to 10 or 11 per cent and still declare it the most competitive tax regime in the country.
Article content
"Any changes we may make will come after consultation with representatives of the business community," Notley told reporters after the event.
Of course, these are very different days than in 2015, when Albertans suffered from a collapse in oil prices, layoffs in the sector and a huge $6.4 billion deficit reported in 2015-16.
The Progressive Conservative government of Jim Prentice unveiled a series of austerity measures in the spring 2015 budget. A survey conducted by the government at the time found that a whopping 69 per cent of Albertans wanted to see corporate taxes raised.
Notley won the May 2015 election by a landslide, ending the PC dynasty, before losing to the UCP in 2019.
But it's a different time, following the pandemic and one of the deepest recessions in Alberta's history, and a strong economic rebound in 2022.
Article content
Oil prices have risen over the past year. The province's unemployment rate stands at 5.8 percent. Rising inflation and higher interest rates have become a central concern for business operators and consumers.
NDP's Notley promises stability, cooperation in speech to Calgary business

Alberta's economy to grow more slowly in 2023 due to inflation and interest rates: report

Alberta on track to reach $12.3 billion surplus as oil prices soften and spending picks up

Alberta's corporate tax cut makes it the lowest rate in Canada
After the speech, Yedlin pointed out that Alberta's low corporate tax rate has made it a competitive jurisdiction to attract private-sector investment.
"We would not like to see it go up – and especially in light of the fact that there will be a surplus situation," she said.
Article content
University of Calgary economist Trevor Tombe noted that the UCP government scrapped some tax credits introduced by the previous Notley government, opting instead to lower the broader corporate income tax rate.
As to which strategy is more effective, he said it is open to debate.
"I don't think you can say it's better either. They are different," he said.
"Both have merit."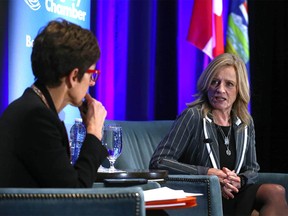 Another crucial question facing Albertans and businesses in the May 2023 election will focus on how best to manage the province's future budget surpluses, including this year's projected $12.3-billion bonanza.
The Business Council of Alberta released a report Thursday calling on the province to inject $1 billion annually into the Legacy Fund for the next two years, and then split the rest, with 80 percent directed toward debt repayment and the rest earmarked for strategic projects and priorities.
Article content
Council president Legge, who was the Calgary chamber president in 2015, expects the surplus to be a key issue discussed during next year's election campaign, along with rising costs and health care.
Regarding the issue of corporate income tax, Legge believes the low rate has attracted work, investments and businesses to the province. He pointed to a number of petrochemical projects proposed for Alberta's Industrial Heartland, and De Havilland Aircraft of Canada's plans for a large aircraft manufacturing complex and airfield near Calgary.
"We are all for the most competitive jurisdiction in Canada and North America, if at all possible, from a corporate and personal income tax perspective," Legge added.
"Anything that will maintain our competitiveness is the right move in our opinion. We also think there is a greater conversation and study about Alberta's longer-term revenue so we get off the roller coaster."
Chris Varcoe is a Calgary Herald columnist.
cvarcoe@postmedia.com