It's not easy being a federal minister of natural resources in times of trouble in the oil patch. But Jim Carr managed it with a calm, cool demeanor, even when facing a tough crowd.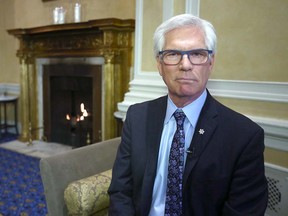 Article content
It's not easy being a federal natural resources minister during troubled times in the oil patch, and it's doubly so for a Liberal minister arriving in Calgary to defend unpopular policies during a highly charged energy debate.
Article content
Think of the fierce battles over Bill C-69, Energy East and Northern Gateway.
Article content
But Winnipeg South Center MP Jim Carr, who was natural resources minister during the tense showdown over the fate of the Trans Mountain pipeline expansion – and later became the premier's special representative for the Prairies – managed to do it with a calm, cool demeanor even when facing a tough crowd.
"I know my party and my government are not popular here. I mean, you don't have to be a genius to figure that out," Carr told a Calgary Chamber of Commerce lunch just weeks before the pandemic hit in early 2020.
"The reason we have this disconnect is that we're not listening to each other, and the government of Canada and I need to do a much better job."
Article content
Carr died at his home on Monday aged 71 after battling kidney failure and multiple myeloma.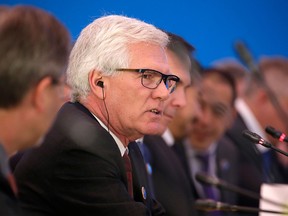 "He was a charming man, down to earth, and he listened," said Ian Anderson, the former chief executive of Kinder Morgan Canada who later headed Trans Mountain Corp. became after the pipeline was purchased by the Trudeau government.
Carr, who worked as a columnist for the Winnipeg Free Press and was the founding CEO of the Business Council of Manitoba, was elected to the federal riding in 2015 and soon became the country's minister of natural resources.
He remained in this role until July 2018, when he took over as Minister of International Trade Diversification, before becoming the Prime Minister's Special Representative for the Prairies. This position was created after the Liberals failed to win any seats in Alberta or Saskatchewan in the October 2019 election.
Article content
Carr was not a flashy, headline-grabbing politician willing to drop the gloves for a partisan scrap. He was driven more by a desire to find common ground — no small feat given the conflict between federal and provincial governments over the energy landscape.
"Jim was unbeatable," says Janet Annesley, who served as Carr's chief of staff for nearly two years after working with the Canadian Association of Petroleum Producers (CAPP).
"Whenever we came to Calgary, he sought to speak to the biggest critics we could find. . . He knew it might not be possible to please some of the biggest critics in the oil and gas industry, but he certainly wanted to try."
It has often been an uphill battle to find common ground as the federal government has squared off with the province on issues such as Ottawa's blocking of the Northern Gateway project, emissions policy, Canada's pipeline paralysis and the energy transition.
Article content
Boomtown, BC: The planned growth of the liquefied natural gas industry is turning Kitimat into the next energy hub

"I want to make you happy," Trudeau's Prairie envoy Jim Carr tells the Calgary crowd

Trans Mountain expansion is running billions of dollars over budget and months behind schedule

Encana, whose history in Canada dates back to the 1800s, says goodbye to the TSX today as it heads south
Carr's trip to Calgary in January 2020 came on the same day that Encana Corp. officially voted to pack up and move its corporate headquarters from Calgary to Denver.
At the time, the city was suffering from several years of layoffs in the oil and gas sector. Many in the industry pointed the finger squarely at Ottawa for blocking new energy infrastructure through its Impact Assessment Act, known as Bill C-69.
Article content
Chris Bloomer, former head of the Canadian Energy Pipeline Association and a vocal opponent of Bill C-69, said Carr has been given the difficult task of promoting policies from the prime minister's office that frustrate the oil and gas sector.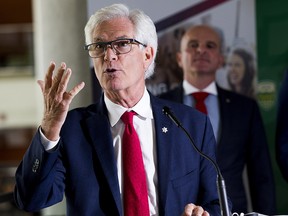 Still, Carr was widely respected for his first approach, Bloomer said Tuesday.
"He was handed a file that was kind of on fire," Bloomer added.
"He was a man of conviction and was always straightforward. As a person it was hard not to like him."
Business Council of Alberta president Adam Legge first met Carr shortly after the Winnipeg MP took over the natural resources portfolio. They later conferred when Legge set up the business council in Alberta in 2019, based on Carr's experience in Manitoba.
Article content
"What I always admired about Jim was that he never minced words," Legge said.
"If there was something he couldn't do, whether policy wasn't going your way or (about) legislation, he would talk about it very directly – he never hid behind talking points."
One of the toughest jobs in the resource portfolio came in 2018, as the quagmire around the Transberg pipeline expansion deepened.
Carr was one of the key ministers involved in the issue as private owner Kinder Morgan Canada prepared to walk away from the development in the face of opposition from then-BC Premier John Horgan.
Tensions rose that spring between Alberta, BC and the Feds. By May, Ottawa agreed to buy the beleaguered project for $4.5 billion.
Article content
It wasn't the first option — and it was expensive, as construction costs have since risen to $21.4 billion — but the project is being built.
Anderson, who as president of Kinder Morgan Canada dealt frequently with Carr when the project was in jeopardy, recalls that the minister was well prepared and confident in making decisions after examining the options.
"He helped me come up with solutions that would be acceptable to the cabinet and the prime minister's office," Anderson said.
"Once he agreed that it was a national interest project that needed to be built, he invested the time and energy in working among his colleagues to reach the right conclusion. So he was instrumental."
There were other clashes that unfolded over the West Coast tanker ban and the ill-fated Energy East pipeline.
However, Enbridge's Line 3 replacement project has been built, the LNG Canada megaproject has been approved and is now being built, and the Trans Mountain expansion is underway, Annesley noted.
"It took his leadership to find solutions to many of these issues," said Annesley, who is now chief sustainability officer at Kiwetinohk Energy Corp.
"Jim's fingerprints are on all those files."
Chris Varcoe is a Calgary Herald columnist.
cvarcoe@postmedia.com