The second quarter report released by Treasury Secretary Travis Toews points to a large surplus for this year, but highlights some of the potential dangers ahead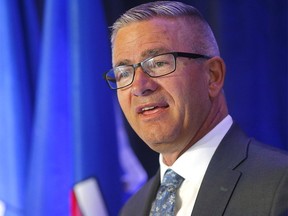 Article content
There are so many risks facing Alberta's economic recovery today, you might need a spreadsheet to track them.
Article content
Rising inflation. Rising interest rates. Weakening consumer spending. Concerns about a global downturn.
Article content
Don't forget the unpredictable nature of energy prices.
What would happen if oil prices continued their recent downward slide and averaged just US$55 a barrel next year? Would this stop Alberta's economic growth and cause a recession?
According to the province's mid-year fiscal update, the answer is no.
The second quarter report released Thursday by Treasury Secretary Travis Toews points to a large surplus for this year, but highlights some of the potential dangers ahead. The solid economic expansion for 2022 is expected to moderate next year.
This year's budget surplus is now pegged at $12.3 billion, nearly $1 billion lower than August's update, due to lower commodity prices.
Article content
Next year, the surplus is expected to drop by more than half to $5.6 billion, but still at a significant level. The government predicts a drop of $7.3 billion in total forecast revenue in 2023, with energy royalties tumbling from record highs of $28 billion this year to $19.2 billion.
Despite these speed bumps, the government predicts that gross domestic product (GDP) will increase by 4.8 percent this year, slowing to 2.7 percent in '23.
"Alberta's economic outlook remains solid, but risks are increasing. Persistently high inflation, aggressive interest rate hikes around the world and ongoing geopolitical uncertainty are slowing the momentum in the global economy," the update said.
Toews acknowledged at a news conference that a deep, prolonged global recession will affect energy prices, but said he doesn't see a downturn ahead for the province.
Article content
"Many economists are predicting that Canada will experience several quarters of economic contraction in 2023 – and we're certainly not predicting that for Alberta; our energy industry is getting its legs under itself," he said.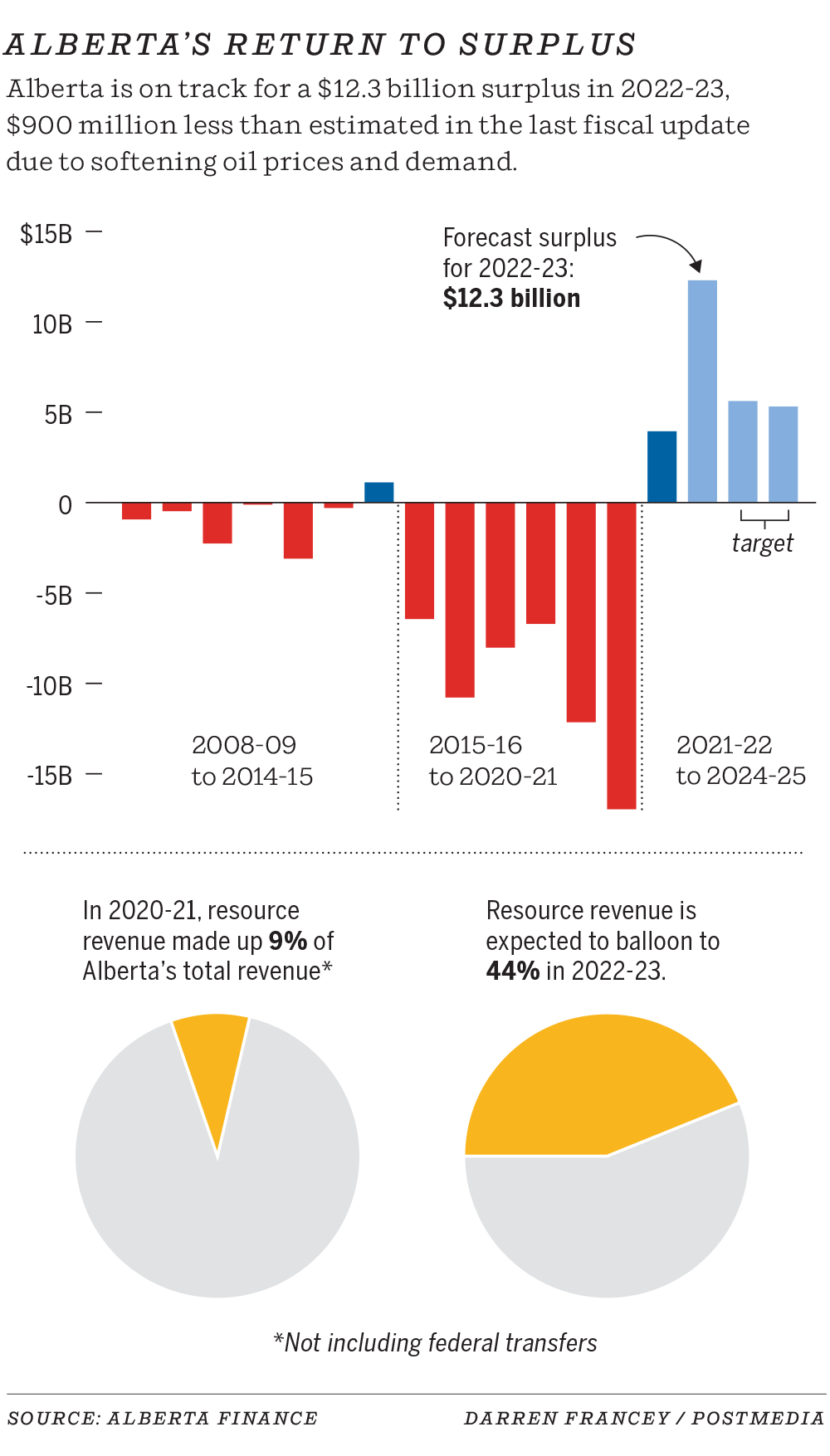 As with most budget updates, one of the key numbers to examine is the forecast for oil prices, as they drive much of the royalty income.
The government forecasts benchmark oil prices to average US$91.50 a barrel for the current fiscal year ending in March, more than $10 above current levels, as prices closed near $78 a barrel on Thursday.
Next fiscal year, the province projects West Texas Intermediate (WTI) crude oil to average $78.50 per barrel.
It seems reasonable enough. Projections from more than a dozen private banks, industry analysts and forecasting firms range from a low of $75 a barrel to a high of $105, with an average of $88.
Article content
Yet geopolitical tensions and economic factors can quickly transform any outlook.
If energy demand soars in 2023 and oil averages just $55 a barrel next year, Alberta's economy won't go into a ditch, according to the outlook. Under the low-price scenario included in the report, the economy will continue to grow at 1.2 percent in 2023.
Now it would not be a painless situation, with less job growth, while provincial tax and resource revenues would tumble by about $13.9 billion.
"Alberta is in a much better position than other provinces to withstand an economic slowdown," said Mike Holden, chief economist of the Business Council of Alberta.
"I'm a little concerned that those (provincial) growth rates might be a little optimistic, simply because we're dealing with such a volatile situation."
Article content
Provincial officials note private sector investment is expected to flow into both energy and non-energy projects next year. There is a range of developments now ahead, such as petrochemical complexes, wind and solar farms and manufacturing facilities.
The population is also expected to continue growing, by 2.2 percent next year. The housing market in Alberta "is doing much better compared to the rest of the country, supported by solid migration and low inventory," the update said.
A recent forecast by Desjardins indicates that Canada's economy will enter a mild recession in the first half of next year, but it expects Alberta to see a modest expansion of 0.5 percent in 2023.
"It's a good update for Alberta, in the sense that the fiscal numbers speak for themselves," Desjardins economist Marc Desormeaux said in an interview.
Article content
"But downside risks should not be overlooked at this particular point where there is uncertainty about where the course of the global economy is going."
Alberta on track to reach $12.3 billion surplus as oil prices soften and spending picks up

Varcoe: CPP replacement, new Alberta revenue agency, surplus plan priorities for finance minister

Recession proof? The Alberta economy is expected to avoid Canadian GDP contraction
Next year, according to the province's baseline outlook, employment is expected to expand by 2.4 percent in 2023, while the unemployment rate will increase to six percent.
Non-energy investment is expected to grow by around nine percent. Capital spending in the oil and gas sector is expected to increase by $5.9 billion, or 18 percent.
Article content
Petroleum producers are expected to increase drilling and production – which hit a record 3.9 million barrels per day in September – before the Trans Mountain pipeline expansion is completed late next year.
Of the 111 oil sands projects in the province, 63 have now moved into the higher "post-payout" category, which elevates them to paying higher royalty rates once their capital costs are recovered.
Two more projects will reach this level in 2022 and again in '23.
The widening price differential between WTI crude and Western Canadian Select heavy oil is one area of ​​concern and is expected to average nearly $20 a barrel this year, about $5.50 above budget.
Inflation is another wild card and is expected to average 6.3 percent this year, slowing to 3.3 percent in 2023. The province is also seeing a slowdown in retail sales for big-ticket items, but momentum largely continues.
This does not mean that Alberta is fully protected from the economic storm clouds. Memories of a deep recession in 2020 are still fresh.
"Alberta's economy cannot be insulated from the impact of geopolitical uncertainty, global economic slowdown and tighter financial conditions," the update said. "The current economic environment is highly uncertain."
Chris Varcoe is a Calgary Herald columnist.
cvarcoe@postmedia.com