'Although we are turning to a modest amount of growth, the overwhelming growth field is . . . organic'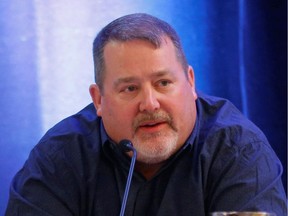 Article content
Sometimes you have to spend to grow.
Article content
Canada's oil sands producers are ready to open their wallets and direct more capital to their growth plans in 2023 after several years of relative frugality.
Article content
Companies are unveiling bigger capital budgets for next year, despite concerns about the future direction of the global economy and a decline in oil prices – even the potential effect of Alberta's sovereignty law.
In the past week, four of the nation's largest oil sands producers unveiled larger capital programs for 2023, with Cenovus Energy announcing Tuesday that it will spend between $4 billion and $4.5 billion next year.
At its midpoint, it is 21 percent higher than this year's budget.
"The industry has really been in a real belt-tightening mode for most of the last two or three years, given the pandemic and everything else," Cenovus CEO Alex Pourbaix said in an interview.
Article content
"Now, as balance sheets improve, as commodity prices remain strong, I'd be surprised if we don't see some (additional) production."
The Calgary-based integrated producer said about $2.8 billion of its capital expenditures will be earmarked for maintaining capital that enables it to maintain base output.
About $1.45 billion will be directed toward growing or optimizing operations, including its oil sands assets in northern Alberta, and toward building the West White Rose project offshore Newfoundland and Labrador.
Another $500 million will help grow the company's thermal oil sands business, adding about 100,000 barrels a day over the next two to five years, Pourbaix said.
Total production next year is forecast to be around 820,000 barrels of oil equivalent (boe) per day, an increase of more than three percent.
Article content
"You've certainly seen (in) the media around the world about the current urgency to get oil and gas to countries that need it. So, I think it's a bit of a trend," Pourbaix said.
"Although we are turning to a modest amount of growth, the overwhelming growth field that is coming . . . organic."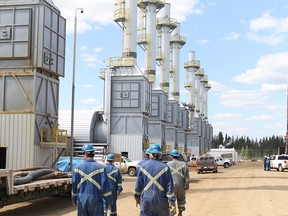 Spending rose in Canada's oil and gas sector as high energy prices boosted profits for producers while also enabling them to pay down debt and return more money to investors.
Statistics Canada reported last week that capital spending in the country's oil and gas extraction sector increased to $9.9 billion during the third quarter, a 50 per cent increase from a year earlier.
Capital programs for oil sands producers that released their 2023 plans rose about 25 percent on average, said Jonah Resnick, senior research analyst at Wood Mackenzie.
Article content
"They're still going to be pretty careful about how they spend it," Resnick said.
"It's not quite 2014 for growth in the oil sands and things like that, but there is certainly capital to spend on economic projects."
Analysts say part of the increased cap-ex across the sector is fueled by inflation, although producers are also responding to strong commodity prices and additional pipeline capacity.
Prices for benchmark US oil closed at US$73.70 a barrel on Tuesday, down more than $3, as the market continued to digest the effects of the global economic slowdown and a price cap on Russian crude.
"You have higher capital budgets because you have some incremental growth this year," said Patrick O'Rourke, an analyst at ATB Capital Markets.
Article content
"They've been cutting capital budgets to the bone over the past few years: seismic, exploration drilling, land purchases, things of that nature . . . starting to creep back into the capital budgets here as well."
Other issues are reverberating through global energy markets, including China starting to loosen some of its COVID-19 policies.
Domestically, the province established its new Alberta sovereignty within a United Canada Act. Business groups such as the Canadian Association of Petroleum Producers (CAPP) and the Calgary Chamber of Commerce expressed initial concerns about the bill's potential impact on investor safety.
The UCP government said the legislation would undergo some changes this week.
Article content
"I suspect those initial comments on the bill were really aimed at ensuring that any legislation maintains investor confidence," Pourbaix said. "I haven't heard anything from investors who are worried about it at this stage."
Asked if he was concerned about its effect on the company's investment, Pourbaix added: "It is far too early to determine . . . but for now there is a lot of hockey to be played, I suspect, on this account."
Varcoe: Canadian chamber warns 'business could be caught in the middle' of fallout from sovereignty laws

City attorney sees no positives for Calgary in proposed Alberta sovereignty law

UCP caucus votes to propose changes to Alberta's controversial sovereignty law
Last week, Canadian Natural Resources announced that its 2023 capital program would climb to $5.2 billion, about six percent higher than this year's level.
Article content
The new program includes $4.2 billion in base capital spending and about $1 billion earmarked for medium- and longer-term strategic growth projects. The company predicts that its production will grow by four percent, averaging about 1.35 million boe per day.
Pipeline capacity is no longer a nagging concern for oil producers, at least in the short term.
During last week's investor day, Canadian Natural CFO Mark Stainthorpe pointed out that with the Trans Mountain expansion project targeted for completion in late 2023, "exit is balanced well into the future."
Meanwhile, Suncor Energy announced last week that its capital spending will reach about $5.6 billion — about 11 percent higher than this year's levels — while MEG Energy released a $450 million budget, which includes a 20 percent increase.
Despite the recent market turmoil, high oil and gas prices are expected in 2023.
According to the US Energy Information Administration's outlook report released on Tuesday, the price of benchmark West Texas Intermediate crude is expected to average $86 a barrel next year.
"We're going to expect some volatility," Pourbaix said.
"I feel we're going to see a period in 2023 and maybe 2024 of fairly robust, albeit volatile, prices."
Chris Varcoe is a Calgary Herald columnist.
cvarcoe@postmedia.com