Higher bills, falling consumer demand, rising interest rates – it's a trifecta of trouble to end a turbulent 2022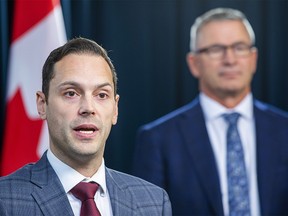 Article content
Shortly before the UCP government introduced legislation to trigger a $2.8 billion relief package for Alberta businesses and consumers stymied by rising inflation, the Bank of Canada raised its key interest rate.
Article content
This is the seventh such increase since March.
Higher bills, falling consumer demand, rising interest rates – it's a trifecta of trouble to end a tumultuous 2022.
Can the provincial government significantly protect Albertans from the flood caused by rising shelter, food and energy bills? Or, like King Canute, is the tide simply too powerful to hold back?
"I don't think that (rate increase) in any way diminishes the significant inflation relief contained in this comprehensive package," Matt Jones, Alberta's minister of affordability and utilities, said Wednesday.
The assistance plan, first unveiled by Premier Danielle Smith last month, has a price tag of $2.8 billion over three years.
Article content
Some measures are targeted; others are more broadly based.
There will be $100 payments made to eligible seniors or families (for each dependent child) who have annual household incomes below $180,000, for six months beginning in January.
The government is re-indexing AISH, Income Supports and the Alberta Seniors benefit – they will increase by six per cent on New Year's Day – and it is indexing personal income tax to inflation, retroactive to the start of this year.
The province will continue to suspend its excise tax on gasoline and diesel until June, and extend the relief at the pumps after that period, based on US oil prices.
It will temporarily cap electricity prices for consumers on the regulated rate option at 13.5 cents per kilowatt-hour for the first three months of next year, although prices above that mark are deferred and recovered during lower price months.
Article content
Another $200 in power rebates will be provided on bills from January to April, in addition to rebates that started this summer.
That's a big bite at $2.8 billion — and it should be, given the broad economic forces at play.
"It's a marginal relief," Alberta Central Chief Economist Charles St-Arnaud said.
"Every little bit helps."
The government offers more details about Alberta's inflation relief program

Bank of Canada raises interest rate, but end is mercifully near

David Dodge, former governor of the Bank of Canada, warns of economic damage from Alberta's sovereignty law

Bank of Canada raises rates by 50 basis points, says hikes may be over

Mortgage rates rise higher after latest rate hike, but end of hike cycle in sight
The inflation rate in Alberta rose to 6.8 percent in October. Food costs were 10 percent higher than a year earlier.
Article content
Shelter expenditures rose nearly seven percent.
People get hurt. And interest rates keep going higher.
The Bank of Canada raised its key interest rate by half a percentage point to 4.25 percent on Wednesday.
Keep in mind, it stood at just 0.25 percent at the start of this year.
Bruce Galts, who owns Galko Homes and Paul Davis Restoration of Lethbridge, said inflation continues to drive up prices in his businesses for key items such as windows, flooring, lumber and labor, as well as increasing monthly utility bills.
Higher interest rates are now undermining consumer demand for housing.
"I don't like to see interest rates go up, but we're in this trouble with inflation and we've got to get it under control," said Galts, who is also the chair of the Alberta Chambers of Commerce.
Article content
"Honestly, both rising interest rates and (high) inflation hurt us badly."
In a news release, the Bank of Canada noted that the labor market remains tight and there is excess demand in the economy, although there is evidence that recent interest rate hikes are restraining consumption and the housing market continues to decline.
"Inflation is still too high and short-term inflation expectations remain high," the bank said.
St-Arnaud believes that inflation is likely to have peaked in the summer, but noted that it takes up to 18 months for interest rates to fully slow demand.
He expects the Canadian economy to grow 0.5 per cent next year – likely to contract in the first half of 2023 – as the Bank of Canada tries to cool things down without plunging the country into a deeper recession.
Article content
St-Arnaud believes the latest increase should be enough tough medicine to cure rising inflation.
"My feeling is we're probably done," he added.
"We have record levels of household debt, businesses also have a lot of debt. . . so that's a vulnerability for the economy that could quickly snowball into a bigger recession if we start seeing big job losses."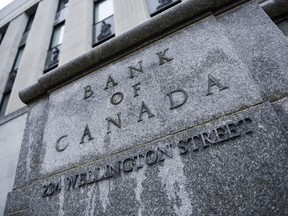 All this makes for a poor situation as inflation is well above the bank's target level – and consumers are feeling the pain of high prices.
It may be easy to discount the effect of some of the provincial measures, but as a new report from the University of Calgary's School of Public Policy illustrates, Albertans on social income support have fallen behind as housing and food costs rise' gobbling up a larger portion of their monthly budgets.
Article content
Alberta's re-indexation of income support by six per cent to make up for the effect of inflation is good public policy, although it is "not sufficient to restore the purchasing power lost during the last nearly three years when inflation was high and social assistance is not indexed," it says.
"Kudos to them for doing it. I just don't know where they got six percent — it's nowhere near what it should be," said report co-author Ron Kneebone, a U of C economist.
As for the broader aid package, Kneebone believes the affordability measures will help, although the reality is that provinces are limited in their ability to offset such economic forces.
"There's just not a lot a provincial government can do to deal with the rising cost of living," he added.
"But they can look after the most vulnerable."
Chris Varcoe is a Calgary Herald columnist.
cvarcoe@postmedia.com