Although provincial officials say the changes in Bill 6 will coincide with the creation of a provincial police force, they do not herald any replacement of the RCMP in Alberta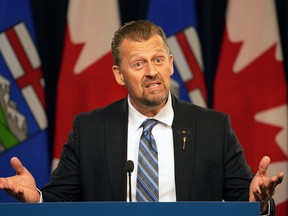 Article content
Alberta's UCP government will create a new body to investigate possible police misconduct and will appoint members to police commissions, it was announced Thursday.
Article content
Police commissions will also have to "take into account" provincial policing priorities and be subject to possible intervention by government ministers in disputes between police services, commissions and local governments.
Article content
These are just some of the amendments to the province's Police Act, the first since 1988. It will also include the establishment of supervisory bodies in rural areas and smaller centres.
But while provincial officials say the changes in Bill 6 will coincide with the creation of a provincial police force, they are not a harbinger of any replacement of the RCMP in Alberta, Public Safety and Emergency Services Minister Mike Ellis said.
"No decisions have been made about a provincial police service – it's about ensuring that rural municipalities have a say at the table under the current model," Ellis said.
Article content
Under Bill 6, a new commission will be created to review police-involved incidents short of serious injury or death, while the powers of the Alberta Serious Incident Response Team (ASIRT) will be expanded to investigate the conduct of peace officers. close, such as as sheriff and bylaw officers.
"In our many conversations with Albertans, one thing that consistently came up was the need to change how complaints against the police are investigated," said Ellis, who referred to a consultation process dating back to 2018 under the previous NDP- government.
It is not clear what the new commission's budget will be, although it will take 18 months to determine, Ellis said.
ASIRT officials have raised concerns in recent months about funding and staffing levels they say have created a backlog of cases, with some investigations dating back to 2018.
Article content
A year ago, its then-executive director Susan Hughson resigned after saying the agency was at "a critical breaking point."
Provincial officials say ASIRT's budget has been increased by 35 percent this year in an effort to reduce its backlog.
Alberta RCMP, Ellis said, was receptive to the new review body but added negotiations are continuing with Public Safety Canada to secure their participation.
Alberta provincial police question deserves a referendum, say rural municipalities

ASIRT on the rocks: Faced with an 'unmanageable' workload, Alberta's police watchdog is shedding staff and falling further behind on files

Unions rally to keep RCMP in Alberta amid plans for provincial police

ASIRT at 'critical breaking point', backlog and under-resourced: executive director
Meanwhile, Ellis said it's time for Alberta to follow the lead of other jurisdictions like BC by appointing provincial members of municipal police commissions, while also having the power to intervene in local issues.
Article content
"It's about sitting down and making sure municipalities and commissions are aware of our priorities," said Ellis, a former Calgary police officer.
"There are going to be unfortunate disputes and someone has to come in and be an arbiter."
There's no word on what those priorities would be, but the UCP government has said it's ready to legally challenge Ottawa's latest gun control legislation, insisting it's not urgent compared to stepping up criminal enforcement not.
Ellis said a greater role for the county in local police commissions has received support from mayors, though some added "are asking for a rationale."
Calgary Mayor Jyoti Gondek has rushed the prospect of increased provincial powers over municipalities, most recently forced to oppose federal policy under the new Alberta Sovereignty Within a United Alberta Act.
Article content
Law enforcement leaders have been calling for updates to policing in Bill 6 for some time, particularly the new complaints commission, said Mark Neufeld, president of the Alberta Association of Chiefs of Police.
"This is also an opportunity to improve independence and transparency in the complaints process, which will enrich trust and confidence across our province. We welcome the opportunity to improve our processes to better reflect our professional and innovative practices in Alberta," Mark Neufeld, who is also Calgary's police chief, said in a statement.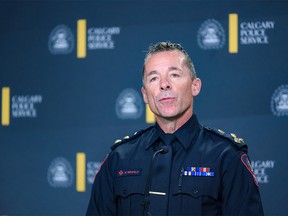 The UCP government has for years promoted the idea of ​​a provincial police force to replace the RCMP, it says, in an effort to make policing more sensitive to local needs.
Article content
But it was met with significant resistance from rural municipalities and polled poorly province-wide in public opinion polls.
In 2021, PricewaterhouseCoopers prepared a report for Alberta's Ministry of Justice to evaluate the transition of RCMP to an Alberta provincial police service.
The total cost of RCMP services for the 2019-20 fiscal year in Alberta was about $672 million, of which the federal government covered about $170 million, PwC reported, adding that under Alberta's provincial policing service agreement with the federal government , Ottawa subsidizes nearly a third of the bill.
The report estimates transition costs at $366 million over six years on top of an annual cost ranging from $734 million to $759 million, while continuing the RCMP would cost about $783 million — a figure adjusted for a 20 percent salary increase in the Mounties' latest collective agreement, as well as operating costs for sheriffs in Alberta, which PwC is proposing to incorporate into a provincial police service.
More to come.
— With files from Jonny Wakefield
BKaufmann@postmedia.com
Twitter: @BillKaufmannjrn