Students pressed administration about the tuition increases and the struggle many students are experiencing to meet their living expenses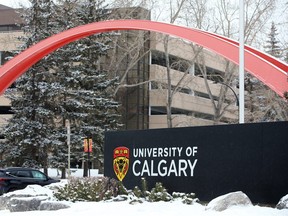 Article content
University of Calgary students expressed their concerns about the school's proposed tuition increases during a town hall with university administration Wednesday afternoon.
Article content
If approved, most of the university's undergraduate students would face a 5.5 percent increase in tuition costs, while nursing students would see an eight percent increase and most international undergraduates would be hit with a jump of two to 10 percent for the 2023 -2024 school year.
Article content
Domestic graduate students will be looking at an increase of two to 5.5 percent and international graduate students will face an increase of two to 10 percent – depending on the program.
Student service fees will also increase by 5.5 percent for all students.
A presentation by university administration on the last day of classes this semester shows a provincial grant cut of $107.5 million since the 2018-2019 school year continues to affect the budget.
Article content
The cut makes the endowment the same size as it was 10 years ago, when the school had 3,000 fewer students and 1,500 fewer employees, explained Ron Kim, the university's vice president of finance and chief financial officer.
University administration brought the rise of inflation into the discussion and pointed out that operating costs continue to increase.
Students pressure university administration
During the question-and-answer period of the town hall, students pressed administration on the tuition increases and the struggle many students are experiencing to cover their living expenses.
A student from the Faculty of Law said the town hall is not an acceptable dialogue between students and university administration when tuition increases have such a serious impact on students.
Article content
"The reality is that this institution does not care," the student said. "I'm sorry to tell you this, but we have two-thirds of students on campus who are food insecure and nothing is being done about it at the institutional level. We cannot solve a systemic problem with individual action."
Students present at the event on campus clapped in agreement.
Another student asked why the burden of government grant cuts falls on students when graduate students bring in hundreds of millions of dollars in research funding.
"How can we be sure that the funding we provide goes back to all graduate students?" asked the student.
Penny Werthnur, the interim provost and vice president for academics, explained the large number of scholarships and bursaries available for merit and need students.
Article content
"We continue to raise it because we know it helps you complete your education as a graduate student on time," Werthnur said.
U of C pushes vote on tuition hike to student union cry

Cash-strapped U of C students are looking for alternatives to expensive textbooks

UCalgary welcomes record number of students to on-campus housing amid COVID surge, tight rental market

Major tuition increases approved for several U of C programs
A student in the nursing program asked why nursing students face a higher increase than other programs after already being hit with a 10 percent jump for this term.
The maximum domestic tuition increase per program is 10 percent.
Administration said the increases are intended to bring the University of Calgary's nursing program costs back in line with the price of nursing programs across the country.
Article content
The university postponed its discussions on the proposed tuition increase at the request of the student union after the union claimed the school's administration refused to allow proper student consultation.
After listening to student feedback before Dec. 5, the university decided to reduce the proposed nursing tuition increase from 10 percent to eight percent. The Dino Athletics and Active Living fees tagged onto tuition costs have also been reduced from a possible seven percent increase to a 5.5 percent increase.
"We are committed to reviewing the mandatory non-tuition application process going forward and we are committed to a review of student wellness services to improve that alignment with student priorities," Werthnur said.
Students can give feedback to the university for the rest of the week.
sbabych@postmedia.com