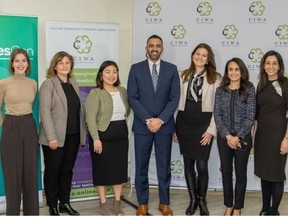 Article content
The federal government has committed more than $850,000 in grants to two organizations focused on helping women enter and excel in the business world.
Article content
Calgary Skyview MP George Chahal announced that the $861,980 in funding Friday on behalf of Dan Vandal, Minister for PrairiesCan. The Calgary Immigrant Women's Association is receiving $375,630 to launch a business incubator program, while Movement51 is receiving $486,350 to deliver financial literacy workshops and coaching to women investors.
Article content
"Calgary and Alberta are full of talented women entrepreneurs and investors, and I'm proud to see our government provide the necessary resources to two great organizations that will play a leading role in our economic growth and competitiveness," Chahal said in ' a news release said. .
Salima Shivji, board director of Movement51, told Postmedia on Saturday that there were already 150 graduates from their classes and the funding they received this week will help expand their programs to help 550 women. They currently have four cohorts with participants from 25 different cities.
Article content
"I think it gives individuals financial insight, but gives the participants confidence and it gives them a sense of where they're starting," Shivji said.
Shivji said she started investing when she was looking for a way to get more out of her money. She said the workshop will help women have a seat at the table when it comes to the investment ecosystem and in turn help grow Calgary and Alberta's economy.
"Ultimately, it's all for the broader economic growth of, shall we say, Calgary, the prairies, Canada," Shivji said. "That's what we're aiming for. It's focused on that economic growth and we're here to love it, enable it and support it and improve it and grow it."
Shivji said Movement51's goal is to have workshops in all corners of the country, but the money offered Friday will be used to expand programs across the Prairie region. They work with the University of Calgary and local business leaders to provide knowledge on early investment as well as following the market and what to look for in companies.
Article content
Meanwhile, the Calgary Immigrant Women's Association is using its funding to support the Immigrant Women's Business Circles. CEO Paula Calderon said in a news release that the program is being built in response to the need for support for middle-skilled immigrant women in Alberta.
"With PrairiesCan funding and CIWA's comprehensive curriculum, immigrant women can embark on the entrepreneurial journeys of their choice," said Calderon. "Supporting immigrant women to become business owners enables them to be part of a vibrant ecosystem and a driving force of Alberta's economy."
dshort@postmedia.com