A regular ticket to ride the CTrain or a Calgary Transit bus will increase 10 cents each year for the next four years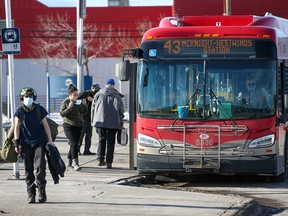 Article content
Calgary Transit riders are looking at an 11 per cent increase in fares over the next four years, but the city is also promising upgrades to the service as part of its long-term budget strategy.
Article content
A regular ticket to ride the CTrain or a Calgary Transit bus will increase 10 cents each year for the next four years, according to the city's preliminary four-year service plans and budgets. That would take a ticket to $4 from $3.60 by 2026.
Article content
Youth tickets could go up five cents each year, for an eight percent increase by 2026. A senior's annual pass could climb from $150 to $169, while a fall session U-pass could climb to $180 from $160.
Calgary city council will debate all items in the proposed service plans in budgets during the week of November 21, so these numbers may change before the plan is finalized.
Calgary CFO Carla Male said service user fees, including transportation fees, are not used to supplement property taxes.
Article content
"There is a user fee policy," she explained after presenting the budget to council. "It is based on the underlying cost of the service and the relative share of that service that is of personal benefit that individuals pay for. So we maintain that policy in how it is calculated."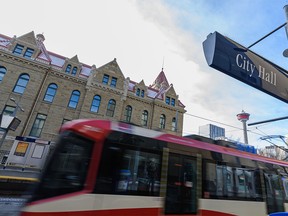 While transit fees are rising 11 per cent over four years, Doug Morgan, general manager of operational services at the City of Calgary, said fares will only increase by less than three per cent year over year, which is lower than inflation.
The net operating budget for transportation will increase by nearly eight percent over the next four years, from $265.6 million to $286.5 million.
Morgan said with the increased funding, the city wants to invest in its primary transportation network and that will include $26 million in funding for "service maintenance and improvements."
Article content
On the capital, the city hopes to spend $137 million to replace the remaining 25 "U2" LRT cars. It also plans to spend $225 million on road buses of various sizes, including 300 40-foot buses, and 182 community buses.
"And as we purchase those new vehicles, we will work with our partners in other levels of government to help fund our Calgary Transit fleet electrification," Morgan said.
The city previously announced plans to borrow money from the Canada Infrastructure Bank at below-market interest rates for the purchase of up to 259 electric buses. It is believed that the savings realized from the retirement of diesel buses will pay for the financing.
Council faces tough budget decisions on non-residential tax share

Calgary homeowners could see 5.2 per cent increase on 2023 municipal tax bill

Safety, transit emergency services among council priorities in upcoming budget

Council committee all on board for proposed electric bus purchases

Calgary is not planning any cuts to services for its four-year budget
Shovel. Courtney Walcott had questions about the fare increase following the introduction of the budget.
Article content
"The city of Calgary is trying to encourage greater ridership, and yet we're looking at an increase of a little over 10 percent," Walcott said. "Do those two things line up with where we want to go?"
He pointed out that a residential parking permit in some parts of the city will cost only $15 annually, while some transit riders will pay $12 more each month for their bus passes.
"I think these are the conversations where we really need to discuss how we link the services we provide to the value. And so I don't have a full answer for you yet, but I know that's going to be part of the discussion."
brthomas@postmedia.com
Twitter: @brodie_thomas