The transit ambassador program will begin as early as 6:30 am. to 21:00 be available on the system on Monday to Friday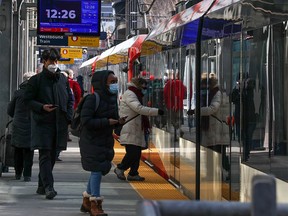 Article content
The City of Calgary is launching a transit ambassador program to increase the city's visible presence on city trains and platforms as one of its new measures to boost ridership and safety.
Article content
The transit ambassador program will begin as early as 6:30 am. to 9 p.m. Monday through Friday on the system to provide customer service and wayfinding for transit users, Calgary Transit Director Sharon Fleming announced. The ambassadors were already out on Monday and are easily recognizable with bright jackets and red scarves.
Article content
"If customers have questions or feel unsafe, they should reach out to the team and they will help. By providing a visible presence on our system through a wide variety of roles, we can help improve the entire customer experience," said Fleming.
"They will be going in and out of the trains, so they will be on platforms between trains."
The role of ambassadors is not to intervene in dangerous situations, Fleming explained, but rather to support passengers and be a friendly face. They will be equipped with a cell phone to call 911 or report an incident to the operational control center.
Article content
More transit security patrols should be added
The city will also add more security patrols on CTrain platforms, improve surveillance camera monitoring staff and install lighting upgrades along all 7th Avenue platforms from West Kerby to City Hall.
"This is a complex issue and we are making operational improvements that will improve safety for transit riders and the broader Calgary community," said City Manager David Duckworth.
Last week, the city graduated six peace officer recruits, and when the recruitment process is complete, there will be 25 percent — or 141 — more peace officers deployed on the transit system. The city is also working to hire and train an additional 31 security guards to actively patrol the system.
Article content
This fall, Calgary police and transit officers issued 370 tickets and arrested 46 people as part of transit enforcement.
Aaron Coon, head of public vehicle standards, said they have since increased staffing levels overtime to support the system's needs while they wait for trainees to be hired and graduate.
The city is also increasing its staffing levels at the operations control center to better dispatch officers, monitor CCTV cameras and respond to security texts. Visibility on platforms along 7th Avenue will be improved by new lighting, which is expected to assist those monitoring platforms and improve visibility.
"Statistics show that we need to supplement our service model, so we're not just using the uniformed police officers or peace officers or security officers," Coon said.
Article content
The upgrades are expected to be completed in the first quarter of 2023.
Calgary Transit says it needs a year to reach pre-pandemic staffing levels

Transport fares are set to rise by 11 per cent in the four-year budget plan

Breakenridge: Calgary shouldn't let complex social issues distract it from making transit safer now
Shovel. Andre Chabot, who has raised concerns about public transit safety in council meetings, said these are positive steps to improve the safety of Calgary's transit system.
"We want to try to get people back on the system. We have to ensure that we provide safety and security," Chabot said. "I think this ambassador program is going to be an excellent addition to downtown."
The TransitWatch program allows Calgarians to report safety concerns by texting services to 74100. The DOAP team can be reached at 403-998-7388 if anyone is seen in need of assistance.
sbabych@postmedia.com