'Chinatown is not a museum, nor is it a time capsule. Chinatown is a living, breathing place'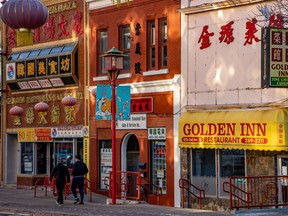 Article content
A plan aimed at protecting Chinatown's unique cultural heritage while allowing the community to grow and develop has been approved by the city council.
Article content
Tomorrow's Chinatown is a cultural initiative that includes the Chinatown Cultural Plan, a culturally informed Chinatown Area Redevelopment Plan (ARP) and the renaming of James Short Park to Harmony Park. It was Calgary's first ever Neighborhood Culture Plan.
Article content
Shovel. Terry Wong said work on the plan took almost three years, with much consultation within the community and academics.
The city engaged more than 8,500 people in three languages, and a 25-person citizen advisory group helped guide the project.
"Chinatown, as you know, has been here since 1885, and we have an area redevelopment plan that was developed 30 years ago, and most of the applications we get in Chinatown today are bumping an old ARP," Wong said. "What we're trying to do is fix the new ARP based on the cultural plan influence of where we want to be."
Article content
The cultural plan, together with a new ARP, will influence future infrastructure development. Wong said there is a focus on the public realm and on mixed-use residential-commercial buildings. Builders will have to stick to an Asian motif while developing new structures in the community.
Wong said the plan recognizes the history, heritage and culture of Chinatown, both in terms of how it looks and how it will be enjoyed by those who live, work and do business there.
He said money would be set aside to help the community celebrate the new plan.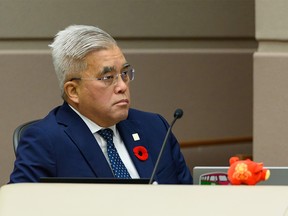 Alicia Ta supported the plan before the council. She said while she grew up in a different part of Calgary, weekly visits to Chinatown with her grandmother and other family members were an important part of her childhood.
Article content
"Chinatown is not a museum, nor is it a time capsule. Chinatown is a living, breathing place," said Ta. "If we want it to thrive, we need to ensure it has a mix of residential-commercial uses that attracts people of all ethnic-cultural backgrounds, ages and is well connected by all modes in all directions."
She said Chinatowns are distinct but not separate from the cities they exist in, which is why the cultural plan is important.
Lloyd Sciban, a retired professor of East Asian Studies at the University of Calgary, said Calgary's Chinatown is the envy of others across Canada because of the support it receives from the city.
He cited the recent renaming of James Short Park and the clear guidelines of the new ARP as examples of how the city is working to preserve the area's distinctive culture.
Article content
"(It's) supportive of the community at large and I think it makes a good case for the survival and vibrancy of Chinatown in the future in Calgary," Sciban said.
Tomorrow's Chinatown aims to broaden its appeal while honoring its past

James Short Park renamed 和園 Harmony Park as part of the city's anti-racism efforts

Council approves additional $250,000 in funds for Chinatown revitalization program
The Council unanimously approved the plan, while the ARP has to go through a few more procedural steps before final approval.
Shovel. Courtney Walcott and Mayor Jyoti Gondek were both absent on council business and missed the vote, but the mayor released a statement in support of the plan.
"The story of Calgary's Chinese community is one that reflects strength and perseverance through challenging times of discrimination and hardship," she said. "Over the years, Chinatown has contributed so much to making downtown Calgary a thriving destination, and these plans reflect what we can achieve together to create tomorrow's Chinatown."
brthomas@postmedia.com
Twitter: @brodie_thomas