Investigators say the group acted as an 'underground bank' for other criminal organizations – most related to drug trafficking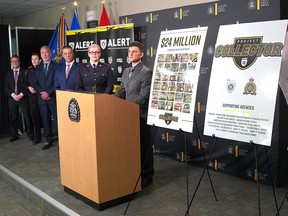 Article content
Seven people, including three Calgarians, have been arrested after a lengthy investigation into a nationwide criminal organization that officials believe may have laundered hundreds of millions of dollars.
Article content
Officials say an investigation known as Project Collector dismantled that group, leading to the seizure of $16 million in bank accounts, real estate and other proceeds of crime.
Article content
Under leadership of Alberta Law Enforcement Response Team's Calgary branch and RCMP's Federal Serious and Organized Crime Unit began the investigation in Calgary in 2018 after police intercepted a $1-million cash shipment destined for Vancouver.
Over the course of one year, ALERT says investigators determined the organization laundered $24 million. The proceeds are distributed across a Canada-wide network, primarily based in Calgary and Vancouver with an additional cell in Ontario.
"It's safe to assume that this group dating back to 2013 has moved tens of millions of dollars across the country, if not hundreds of millions of dollars," said lead investigator Cpl. Nicolas LaForge at a news conference Wednesday morning.
Article content
LaForge said the group acted as an "underground bank" for other criminal organizations – most related to drug trafficking – allowing them to transfer large sums undetected and clean up their ill-gotten gains.
'Cut off the head of the snake': Meth, cocaine worth $55 million seized in Alberta bust

Police seize more than $4.5 million worth of drugs from 15 properties in Calgary

BC money laundering probe hears of $800,000 and more in bags, luggage, backpacks
"This criminal organization did not discriminate with whom they would do business. In other words, any crime groups across the country that wanted to use their service could do so," he said. "When we closed this operation, we ended their ability to transfer funds across the country."
Article content
ALERT's insp. Jason Bobrowich said the investigation is one that is unique and "truly unparalleled in Western Canada." He described money laundering as an "invisible crime", but one that fuels the cycle of criminality by making it easier for crime syndicates to operate.
"Money laundering makes crime profitable by allowing organized crime groups to legitimize ill-gotten gains in the mainstream economy and create an incentive to commit further criminal acts," he said. "The impact of money laundering is felt widely across our society with far-reaching political, social and economic impact."
Police said seven suspected leaders with the organization were arrested in September and charged with:
Lien Ha, 42, of Calgary
Cynthia Nguyen, 42, of Calgary
Yuong Nguyen, 43, of Calgary
Grace Tang, 25, of Vancouver
Donald Hoang, 26, of Vancouver
From Duc Hoang, 64, of Vancouver
From Thi Nguyen, 62, of Vancouver
Article content
Collectively, they face 71 criminal charges including participating in a criminal organisation, laundering proceeds of crime, and dealing in property obtained by crime, as well as further charges under the Proceeds of Crime (Money Laundering) and Terrorist Financing Act .
Several local agencies also assisted in the investigation, including police forces in Calgary, Edmonton, Vancouver and Toronto, as well as the Canada Revenue Agency and other national financial enforcement organizations.
Authorities said all of the seized property and funds are currently under "criminal restraints," essentially freezing all of the assets. The police intend to demand the forfeiture of all the seized items.
mrodriguez@postmedia.com
Twitter: @michaelrdrguez