Article content
Telling his mother he was sexually assaulted by his basketball coach helped her understand his destructive behavior, a witness testified Tuesday.
Article content
Under cross-examination by defense lawyer Matt Deshaye, the now 20-year-old admitted his mother was worried about his alcohol and drug use, which he said was a product of his abuse by his former coach, Sean Maheu.
Article content
"I told my mother (about the sexual abuse) and explained my behavior to her. . . to some extent," he told Deshaye.
The witness, who said he was sexually assaulted four or five times in Maheu's southwest Calgary home when he was 14 or 15 years old, said he repressed his memories of the abuse.
But he said on October 31, 2020, while high on acid, he called his mother to take him home, and when they got there, he told her what happened between him and Maheu.
"Once we got home, we got into the details," he said.
Article content
The lawyer asked if the witness's mother was disappointed by his self-destructive behavior.
"Not so disappointed, more worried," he replied.
Maheu (40) faces four sex-related charges in connection with his intercourse with the then teenager.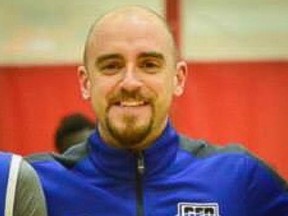 Two weeks after his disclosure to his mother, the witness was interviewed by sex crimes Det. Trish Allen, in a video, Crown prosecutor Rose Greenwood wants provincial court judge Barry Nordin to declare evidence admissible.
Deshaye is opposed to the evidence going in.
Under the Criminal Code, video of a minor at the time of the alleged offense can be admitted into evidence if the witness accepts the content and a judge finds that its admission will not interfere with the proper administration of justice.
Article content
Through the video and his own testimony, the complainant said Maheu sexually assaulted him both anally and orally.
During questioning by Deshaye on the admissibility issue, the witness admitted he had suppressed his memories of what happened.
"I was actively running away from it and suppressing it," he said.
Even when he disclosed the abuse, he struggled to remember in detail what happened.
"It wasn't in my mind, but it was there and it affects me," he said.
"It won't be like I'm watching a video in my head of these events."
Basketball coach 'courted' teenager before sexually abusing him, Calgary court heard

Calgary police file new sexual assault charges against youth worker

Former basketball coach is accused of sexually assaulting a 14-year-old player
He said that at one point, early in the relationship with the coach, his mother told him she believed Maheu had sexually abused him, citing "red flags" she had noticed, but he denied that he had that stage was abused.
And she never equated his drug and alcohol use to behavior caused by his transgression by the coach.
"She just assumed I was a bad kid and acting crazy," the complainant said.
He also said that between his disclosure on October 31 and his interview with Allen on November 13, he and his mother did not talk in detail about what happened.
"Are you talking to your mother about what happened?" Deshaye asked.
"Not really," he said.
KMartin@postmedia.com
Twitter: @KMartinCourts