'The overall tech ecosystem, especially over the last half decade in Calgary, has come a long way'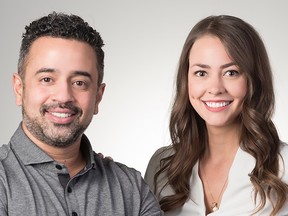 Article content
The Calgary tech sector continues to defy the economic slowdown as another company secures significant Series-C funding.
Article content
On Thursday, Symend announced that it has raised about C$56 million to accelerate its growth and global market expansion. The fintech company was founded in 2016 and has expanded across North America, into Latin America and the United Kingdom.
Article content
"In the last 20 months, we have been hyper focused on investments in our technology, our platform, our solutions," said Hanif Joshaghani, co-founder and CEO. "This round has really been about focusing now on spending to market and growth."
Article content
The funding round was led by Inovia Capital and a consortium of investors including Impression Ventures, Mistral Venture Partners, BDC's Growth Venture Co-Investment Fund, BDC Capital's Women in Technology Fund, Plaza Ventures and EDC.
Article content
Joshaghani noted that much has changed in the tech ecosystem since their previous funding round in February 2021, including the economic slowdown and rising interest rates.
"Given the size of the (previous) rounds we did, there was a lot of due diligence as well, it's just you could feel the extra pressure in the market when we entered the market this time," he said.
Article content
It's a challenge Calgary companies have been able to meet. This is the second major announcement this week, with Attabotics announcing nearly $100 million in Series-C funding on Monday.
While investment did not hold up in other jurisdictions, Toronto, Montreal and Vancouver all fell from their record funding levels of 2021. These two announcements will push Calgary past its record mark of $490 million last year. Calgary was at an estimated $433 million through three quarters, according to preliminary data from CVCA, before these announcements.
Article content
"The overall tech ecosystem, especially over the last half decade in Calgary, has come a long way," Joshaghani said, pointing to the tech intensity of oil and gas as a foundation for this recent growth.
The Alberta government is looking at reviving tax credits for video game developers

Alberta is now home to 3,000 technology companies; new report shows an industry making strides

Compelling Calgarians: Hanif Joshaghani and Tiffany Kaminsky lead others out of debt
Symend is going through a period of exponential growth, doubling the number of customers served for the third consecutive quarter and is on track to serve 40 million consumers this year in some of North America's largest companies.
The company was No. 7 on Deloitte's Technology Fast 50 ranking of Canadian technology companies on Thursday, citing 4,366 percent growth. It was the highest-ranked Alberta company, with Edmonton-based AltaML in 13th place with 2,309 percent growth.
Article content
"Enterprises are seeing the value of Symend through its ability to help reduce delinquent payments and retain revenue, while delivering a hyper-personalized approach that increases customer loyalty," Dennis Kavelman, partner at Inovia Capital, said in a news release. said. "The demand for Symend's technology continues to increase and we are excited to help fuel the next phase of growth."
Symend seeks to position itself as a world leader in the study of behavioral science so that companies can better serve their customers digitally and at scale. This is something that has developed over the course of the pandemic.
In its latest consumer study, it found a 15 percent rise in digital fatigue over the course of the year, as well as an increase in decision fatigue. Meanwhile, there is a growing scarcity mindset due to market volatility with rising inflation and a looming recession.
All of this makes the type of information they provide to their customers that much more important.
"This is an opportunity for us to help more of those customers through these challenging times," said Tiffany Kaminsky, co-founder and chief impact officer. "It definitely fits the demand and the need for a solution like Symend to help your customers when they need it most."
jaldrich@postmedia.com
Twitter: @JoshAldrich03