Of the many residential schools that operated in Canada, only a handful remain today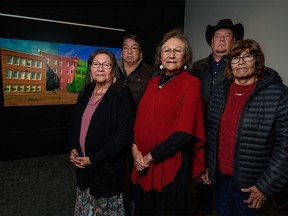 Article content
A project by University of Calgary archeology researchers, in partnership with Indian residential school survivors, is digitally preserving three former residential school sites in Alberta to create a lasting record of buildings.
Article content
The research team, led by Dr Peter Dawson, head of the university's Department of Anthropology and Archaeology, used terrestrial laser scanners, drones, historical photographs and interviews with the schools' survivors to create virtual and physical 3D models of the former residential schools .
Article content
The Old Sun Indian Residential School on Siksika Nation, University nuhelot'ine thaiyots'i nistameyimâkanak Blue Quills in St. Paul and Poundmaker's Lodge Carriage House, which once formed part of the Edmonton Indian Residential School in St. Albert has been selected to be archived.
Of the many residential schools that operated in Canada today only a handful remain. Two of the digitally preserved schools are now used as Indigenous-led post-secondary facilities.
Article content
"It is important that we preserve the remaining buildings, because they are witnesses of history. They are a physical representation of an education system, in name only, that has caused great harm and suffering to generations of Indigenous children," said Dawson.
The laser scanners digitally capture every room and area of ​​the school, inside and out, to create architectural plans, 3D models and an online archive, Dawson explained.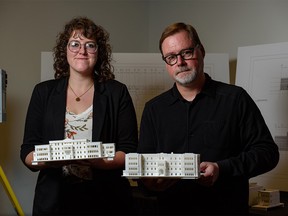 Vivian Ayoungman said during a presentation at the University of Calgary campus Thursday that the project is a way for survivors to talk about their experiences, and for others to listen and learn.
"For too long our people have been on the outside, on the edge, looking at what archaeologists and others are studying about us. We just want to be there," said Vivian, the head of an Old Sun Community College advisory committee.
Article content
The project was led by the advisory committee at Old Sun Community College, the former residential school. The committee reached out to fellow survivors to tell their stories.
Gwendora Bear Chief said she hopes people from around the world will learn more about what happened at residential schools through this project.
"There are many people who do not believe us. This is our truth. It's important for people outside and for our own children to know what happened," said Bear Chief.
She spent 11 years at Old Sun Residential School and said she has always struggled to share her experiences with others.
"All of us survivors never talked about it, it's buried so deep because it's an ugly part of our lives. We hid it," said Bear Chief. "It was part of my healing."
Article content
'Historic' motion to recognize residential schools as genocide unanimously backed by MPs

'We lost far too much': Orange Shirt Day remembers the children

Canadians reflect on residential schools on Truth and Reconciliation Day
Angeline Ayoungman said she hopes people will access the project to learn more about the trauma Alberta's indigenous people have endured.
"I want people to hear our stories and believe us," said Angeline, who also attended the residential school. "People can actually hear our story and see where it happened."
For her, much of her time at the residential school is a blur, but memories come rushing back to her.
"I think maybe it's because it's painful to remember," she said. "I'm just happy that this project will help tell our story and I hope people pay attention and believe us."
Article content
When the project is completed in March, the online archive will include stories from survivors and physical 3D models will be used to educate young people through the university department's youth engagement program. They teach Indigenous archeology and heritage in Calgary schools, and will be able to use the models as an interactive educational tool.
Dawson said readers will be able to learn about what happened in these schools and virtually visit the rooms where those stories took place.
"By taking apart the 3D physical models of the school, we hope that students will be able to understand and perhaps visualize what it would be like to attend," Dawson said.
Dawson said he heard interest in the project from a research team in Australia that is documenting their country's mission schools – their equivalent to the Indian residential schools in Canada.
sbabych@postmedia.com