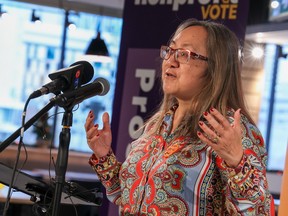 Article content
Alberta non-profit organizations are calling for a one-time grant of $30 million from the provincial government as multiple crises continue to hurt the sector's viability.
Article content
After three pandemic years in which officials said government programs and grants focused on the private sector did little to help nonprofits, rising inflation and an economic downturn pose another threat to the industry.
Article content
"I have never before seen the strain on our vital systems in our sector to this degree," said Karen Ball, president and CEO of the Calgary Chamber of Voluntary Organizations.
Revenues at Alberta's roughly 30,000 not-for-profits — which employ nearly 300,000 people and contribute $5.5 billion annually to the provincial economy — have declined in recent years, Ball said, all while dealing with a increasing demand for services and addressing increasingly complex client needs, including addictions. , housing and other social support. She said a $30 million donation would provide short-term relief from inflation and help ease staffing issues.
Article content
"Just a sliver of Alberta's $13 billion surplus — less than 1 per cent — could prevent failure of essential not-for-profit programs and services and save lives," Ball said.
Officials from several nonprofits gathered Tuesday at the Carya Village Commons in the East Village to talk about the adversity they've faced in recent years and join the volunteer chamber's call for funding.
Danielle Ladouceur, the CEO of the Children's Cottage Society, a charity that provides mental health and housing services to families in crisis, said her employees had gone seven years without a pay bump due to financial hardship and a lack of government funding.
"It breaks my heart to see essential workers who care for the hearts and minds and spirits, families and children in our community, themselves suffer," said Ladouceur. "We had to help them fill out applications for food banks. We see them coming in exhausted because they are working second jobs."
Article content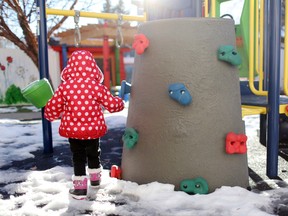 Patti Pon, the CEO of Calgary Arts Development, said cracks in the system were present long before the COVID-19 pandemic, but they have widened in recent years.
"Being non-profit doesn't mean you're for loss," she said. "The not-for-profit sector in Alberta has suffered too many losses; our community has suffered too many losses as a result of the non-profit sector not being able to meet demand."
The request for financial help came hours before Premier Danielle Smith's planned televised speech on Tuesday night. Ball said Alberta's not-for-profit sector will be watching the event closely in hopes of a funding commitment that will revitalize the beleaguered industry.
"In the past, we have consistently received the answer from the government that there is no new money," she said. "We are hopeful that under this new economic reality of a province with a surplus, we can find less than one percent of that surplus to meet this need."
Article content
Smith's office did not immediately respond to Postmedia's request for comment.
The Calgary Chamber of Voluntary Organizations released a report on Tuesday titled "Too Essential to Fail," which highlights a number of issues not-for-profit leaders spoke to at the event. Compiled from a survey of hundreds of Alberta non-profit organizations over the past two years, it gave a report of a sector "in crisis" and "neglected" by the provincial government during the COVID-19 pandemic.
Officials also pointed to a letter campaign called The Nonprofit Vote, which calls on Albertans to reach out to their elected officials on the issue of funding in the non-profit sector. For more information on that campaign, visit thenonprofitvote.ca.
mrodriguez@postmedia.com
Twitter: @michaelrdrguez
Alberta non-profit sector receives $1.75 million boost from province

Calgary non-profit charities grapple with rising energy costs