The Calgary hospital is grappling with high patient volumes as multiple viruses circulate throughout the province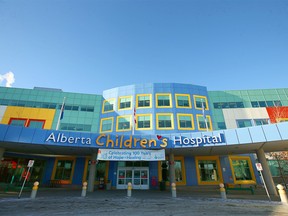 Article content
About one or two surgeries a day are being postponed at Alberta Children's Hospital as the facility continues to grapple with high patient volumes.
Article content
AHS spokeswoman Kerry Williamson said in an email that surgeries are postponed on a case-by-case basis at the hospital. He said less than 20 procedures have been postponed in the past two weeks.
Article content
"As we have done for the past several weeks, we continue to postpone a small number of surgeries on a case-by-case basis based on pediatric ICU and site capacity at Alberta Children's Hospital," said Williamson.
He said AHS recognizes that deferment can be stressful for families, but that decisions in every situation are based on medical advice.
"Patients need to have the right support after surgery to ensure the best outcome," Williamson said. "This is a fluid situation and we will continue to review emerging surgical lists for all service areas on a case-by-case basis and dependent on daily PICU and site capacity."
Article content
Williamson said all emergency and cancer surgeries will continue. He said the surgical volumes vary from week to week, but that an average of 130 surgical procedures are performed each week, or about 26 per day. He said there are about 35 unscheduled emergency surgeries performed at the facility during a week.
Alberta Children's Hospital is grappling with high patient volumes as several viruses circulate throughout the province, including a highly contagious strain of influenza, respiratory syncytial virus (RSV) and COVID-19.
Red Cross help, greater surgical delay not expected at Alberta Children's Hospital: Copping

Two of Alberta's top medical officials have resigned: Copping
In response, a heated trailer was placed outside the hospital's emergency room to serve as an overflow space and respite staff from a neighboring pediatric hospice facility were redeployed to assist at Alberta Children's Hospital.
Article content
Similar problems with high patient volume are being experienced at the Children's Hospital of Eastern Ontario, in Ottawa, where Red Cross workers have been deployed to help, and surgical and medical staff have been redeployed. Alberta Health Minister Jason Copping said earlier this week that he did not expect these measures to be necessary at Alberta Children's Hospital.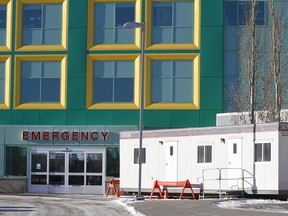 "Our system is under pressure, there's no doubt about it," Copping said at an unrelated news conference Monday. "At this time, (temporary suspension of respite care) is the decision that AHS has made as the best way to really meet the immediate need."
The trio of viruses has also contributed to high absenteeism rates at Alberta schools and contributed to shortages of children's medication at pharmacies.
Article content
On Thursday, the Alberta Medical Association's pediatric section called for measures to be put in place to fight the transmission of those viruses. The association called for increased public messaging about the safety and effectiveness of vaccines, increased accessibility to vaccines, a temporary mask requirement in schools and support to implement HEPA air filters in schools, among other things.
"These protections will help reduce the spread of multiple viral diseases, including RSV, influenza and COVID-19, which are increasing at an alarming rate in our community," said Kyle McKenzie, an executive member of the AMA's pediatric division and a pediatrician working in Red. Deer.
Tracking of wastewater data shows the rolling average of the prevalence of the COVID-19 virus in the community has decreased over the past few weeks.
dshort@postmedia.com
— With files from Jason Herring