With less than six months to go before next May's scheduled provincial election, Alberta's two main political parties are polling at equal strength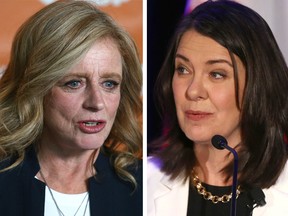 Article content
With less than six months until next May's scheduled provincial election, Alberta's two main political parties are polling at equal strength.
Article content
That's according to a new poll by Angus Reid Institute, which was conducted from Nov. 28 to Dec. 3 and surveyed 591 Alberta adults. It found 48 percent of leaning and decided voters planned to cast their ballot for new Premier Danielle Smith's UCP, with 44 percent intending to vote for Rachel Notley's NDP — a statistical tie.
Article content
These numbers represent a 10-point rise in support for the UCP compared to Angus Reid polls earlier in the year, a jump that reflects declining third-party support. Where the Wildrose Independence Party polled at 11 percent in March 2022, only one percent of respondents said they would vote for them now.
"This is very much the journey to reunite the United Conservative Party, which was very divided towards the end of last year and early this year," said Shachi Kurl, president of the Angus Reid Institute.
Article content
"There is a march away from right-wing voters or center voters from Wildrose, in kind of a protest vote, back to the CCP, with the departure of (former premier) Jason Kenney and the arrival of Danielle Smith."
The neck-and-neck results follow similar data from an Army poll last week, which showed 47 percent voter intent for the NDP, compared to 44 percent for the UCP.
Poll shows tight race ahead of Alberta election with NDP slightly ahead

Nelson: Smith could end up rivaling Notley as our most powerful prime minister
While province-wide support for the two parties was similar, voter intentions varied in different parts of Alberta.
In Calgary, the NDP led with 51 percent support, compared to 40 percent for the UCP. In Edmonton and Northern Alberta, the NDP had 50 per cent voter intention to the UCP's 43 per cent.
Article content
The UCP's vote dominance came outside of those two regions, with the rest of Alberta doubling support for the ruling party, with 59 percent of the vote compared to the NDP's 30 percent.
Undecided voters are likely to swing the election before next spring's ballot, Kurl said, as those who have decided on either party appear entrenched in their support.
This is demonstrated in the different priorities each party's supporters identified as top issues in the poll. While both NDP and UCP supporters identify cost of living and inflation as a key issue, the similarities between the groups end there. Those who plan to vote UCP list jobs and the economy, energy policy and government spending as top issues facing Alberta, while those who support the NDP cite health care, education and the environment.
Article content
"These are two voting bases that see Alberta and Alberta politics through a completely different lens," Kurl said.
"The chances of Rachel Notley making the case to a committed UCP voter or Danielle Smith making the case to a committed NDP voter (are low) … we don't see very fertile ground for either leader to beyond the chasm."
The poll also asked respondents to evaluate some early policy decisions Smith made during her first two months as UCP leader.
More than half of UCP supporters said the $2.4 billion promised in inflation relief was good policy and aimed at the right people, while the same proportion of NDP supporters said it was bad policy.
Overall, 47 per cent of respondents said Smith's decision to fire the Alberta Health Services board would harm the province's health care system, while 35 per cent said it would improve the system. That assessment is also split along party lines: nine-in-10 NDP supporters say the decision will damage Alberta's health system, while three-quarters of planned UCP voters say the opposite.
Online surveys cannot be assigned a margin of error because they do not randomly sample the population. If the data were collected by a random sample, the margin of error would be plus or minus four percentage points, 19 times out of 20.
More to come…
jherring@postmedia.com
Twitter: @jasonfherring