The Calgary Board of Education has confirmed that student absenteeism is now at 12.95 per cent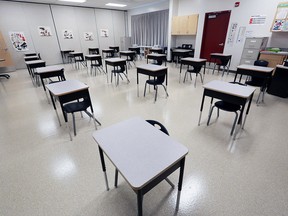 Article content
School absences due to illness have tripled in Calgary's public schools in recent weeks, even as the UCP government remains determined not to reinstate mask mandates.
Article content
Parents say stress levels are incredibly high as respiratory illnesses continue to rise among children — a combination of flu, RSV (respiratory syncytial virus) and COVID-19 — but no data is being shared by the province or school boards.
Article content
"Schools are dealing with mass disruption again, the fourth school year in this pandemic," said Medeana Moussa, spokeswoman for the advocacy group Support Our Students.
"Yet parents are expected to just fly blind, with no information, no data, more children and teachers missing from school, and no health measures."
Moussa, who has three school-age children in the public system, said two were home sick last week, and now the third is home sick this week.
Is There Any Point in Bringing Back COVID Mask Mandates? Experts are divided

Premier Danielle Smith is exploring legal action to stop school mask mandates

Top doctor in Ontario asks public to cover up as respiratory disease rages
"This is the contradiction in the classroom, children get sick, they miss school, they fall behind. Teachers get sick, they miss, the class falls behind.
Article content
"We're going to need leadership at some point and determine how long we can do this."
The Calgary Board of Education confirmed that student absenteeism is now at 12.95 per cent, significantly higher than the eight per cent of two weeks ago, and more than triple the 4.06 average from last month.
Addressing the CBE Board of Trustees at their meeting on Tuesday, Chief Superintendent Chris Usih acknowledged that sickness absence was becoming an "emerging" issue.
"Like so many other school boards across the country, we are experiencing higher than normal levels of illness … significantly higher than we would expect at this time of year."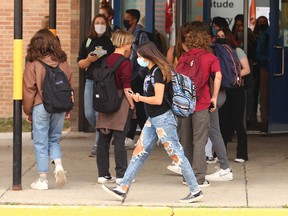 Usih added that despite the appointment of 200 additional substitute teachers for this academic year, CBE is also struggling to staff schools as a growing number of teachers are also sick.
Article content
"For the past week, between 160 and 270 teaching positions remain unfilled every day, and up to 100 support staff positions also remain unfilled," Usih confirmed.
"This is putting significant pressure on some of our schools … We need to significantly change the organization of our staff and students to ensure that learning continues."
Usih explained that as administrators and other support staff double their duties, parents are being warned that individual classes, and sometimes entire grades, may soon have to move to online homeschooling.
Still, Usih would not go so far as to recommend that students or staff wear masks in schools, saying only that it is "an available option."
at the same time, about 28 percent of the 117 schools with the Calgary Catholic School District are experiencing absences of more than 10 percent, a significant jump from last week when 17 percent had 10 percent or more students absent due to illness.
Article content
Unlike school boards in Calgary, the Edmonton Public School Board posts absenteeism figures on their website, showing nearly 14 per cent absenteeism late last week. And the Edmonton Catholic School District now has 15 percent of students away due to illness.
But this week Premier Danielle Smith doubled down by refusing to bring back mask mandates in schools at a press conference.
'We are not going to mandate masks. We heard loud and apparent from parents that they want a normal school environment for their children," she said on Monday.
The comments came on the same day Ontario's chief medical officer of health, Dr. Kieran Moore, strongly recommended that everyone wear masks in all indoor spaces, including schools, but stopped short of an official mask mandate.
eferguson@postmedia.com