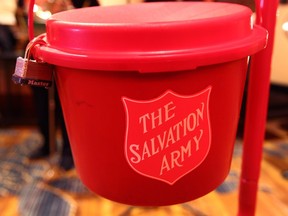 Article content
The Salvation Army launched its biggest annual fundraiser in Calgary on Thursday, deploying a slew of red kettles and volunteers across the city to raise cash ahead of the Christmas season.
Article content
The kettle drive has been running since Nov. 18 — with 38 donation locations across the city — but Thursday marked the official kickoff to the holiday fundraising season for the local chapter of the Sally Ann with its annual Hope in the City event, which welcomes donors in person for the first time since the COVID-19 pandemic hit.
Article content
The Calgary branch hopes to raise $800,000 to support its local programming over the next year, a figure up slightly from previous goals due to inflation and a significant increase in demand, according to spokesperson Lt.-Col. . Brian Venables.
"We've noticed that more and more people are coming to us for assistance because they have less, so they need more support… Quite a few families are coming to us for the first time," Venables said, speaking to Postmedia spoke before the function at Calgary's Hyatt Regency Thursday afternoon.
Article content
"We don't want anyone to get no assistance. Our goal is achievable, but it is necessary so that we can make sure we don't have to say no to anyone."
While Venables said the Sally Ann is happy to once again host an in-person event after two difficult COVID-plagued and cash-strapped holiday seasons, this year they face new obstacles — namely inflation and the related economic hardships many are experiencing — which further increases the need for their services.
"There's just a whole series of things that really hit everyone at the same time," he said.
Mayor Jyoti Gondek was also scheduled to speak at the event, taking time out of a busy budget week at City Hall to make the ceremonial first donation of the year to the campaign.
Article content
"She's taking the time to come and thank and pay tribute to the caring sector of Calgary, the volunteers," Venables said. "People need to be inspired. People need to know what the city is doing and how they are helping, so I'm excited that she's coming."
Salvation Army finds new home for essential community services

Salvation Army goes contactless for second pandemic kettle campaign

Salvation Army Kettle Campaign needs more volunteers to reach fundraising goal
The turnout of volunteers has been good to this point, Venables said, but the organization is looking for more people to help. The money raised will support the Calgary Salvation Army's permanent offerings, including food services, clothing, homelessness prevention, community meals, housing resources, school supplies, toys, Christmas assistance and more.
"Poverty doesn't end on Boxing Day," he said. "We have programs that run year-round to make sure that families have the support they need, and that individuals have safe places to stay."
To apply to be a kettle campaign volunteer with the Salvation Army in Calgary, visit tsacalgarykettles.com. The campaign runs until December 24.
mrodriguez@postmedia.com
Twitter: @michaelrdrguez