Article content
In what is being called the largest investment in the company's history, Enmax Power is replacing its oldest electrical substation that powered much of the city's downtown for more than a century.
Article content
The $200 million price tag to buy the 110-year-old no. 1 substation on 9th Avenue and 7th Street SW, will not mean a noticeable bump to customers' bills, said Jana Mosley, president of Enmax Power.
Article content
"We've been planning this for many years, it's been budgeted for and will be collected over a long period of time on the distribution and transmission side," Mosley said.
"It's not like it's going to be a big hit all of a sudden."
When the facility was built in 1912, much of its electricity powered Calgary's long-gone street cars, along with street lights.
It underwent a series of modernizations, particularly in the 1960s and 1970s, said Kurtis Hildebrandt, the director of regulatory reporting and strategy.
Article content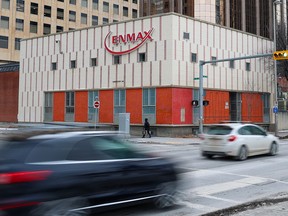 "This will meet the basic requirement to ensure that we have the same capacity for several decades to come."
The new 35,000 square foot substation housing six high voltage transmission lines and 24 medium voltage network supply lines should be operational in early 2025, says Enmax.
Work on the project will cause traffic disruptions on 9th Avenue, 7th Street and 8th Street SW
Reconnecting the transmission and network lines from the current facility to the new one will require trenching on those streets, Enmax says.
"We do expect that there will be disruption to the road and pedestrians, but we will do everything in our power to minimize this," said Mosley.
Newer substations in other jurisdictions are being used as models for the project, she said.
There are no plans to replace any of the other 40 Enmax substations throughout the city, Mosley said.
Unlike the no. 1 substation, those other facilities have more space that allows for easier upgrades, she added.
BKaufmann@postmedia.com
Twitter: @BillKaufmannjrn