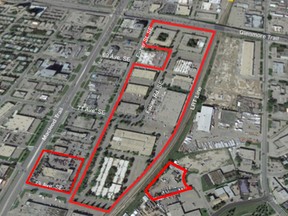 Article content
The public hearing on a massive residential development project near Macleod Trail and Glenmore Trail could take place early in the new year.
Article content
Members of the council's infrastructure and planning committee got an update on the Midtown Station project Thursday.
Article content
City administration said the proposed development would transform a 35-acre area of ​​light industrial and office space known as Fisher Park into a variety of residential towers, mid-rise apartments and townhouses, along with office, commercial and hotel space.
The project will take 25 years to fully build out. It depends on the addition of a new LRT station on the Red Line, which runs alongside the proposed development. The station would be built and paid for by the developer, and would sit between the current Chinook and Heritage stations.
Councilors also heard the project would require updates to the municipal development plan.
Article content
Ben Lee of Arcadis IBI Group, speaking on behalf of the developer, said they were keen to proceed with the project after delays.
"We would like to put what has happened up to this point behind us and look at the process going forward," Lee said. "We have established a very collaborative working relationship with the city team. We are very confident with the group we are working with and very, very satisfied."
Shovel. Gian Carlo Carra said that while the proposed development is no longer in his ward due to boundary changes, he has worked on the project in the past and is happy to see it move forward.
Carra said a previous city cost-benefit analysis he commissioned found adding a station to an existing LRT line carries about one-fifth the cost of extending an LRT line. The figures at the time were $50 million versus $250 million, although Carra said the cost likely increased with inflation.
Article content
"To have an applicant acquire one of our more mortal industrial sites right next to a major activity center and propose to . . . where a station can and should fit, serving existing and emerging communities is a very exciting thing," said Carra.
Safety, transit emergency services among council priorities in upcoming budget

Council approves five new communities as critics raise climate concerns

Council faces tough budget decisions on non-residential tax share

Calgary council to review $491M electric bus proposal
The LRT station will serve not only the new development, but also the community of Fairview on the east side of the tracks. Lee told Carra that the station would be one of the first key components of the plan.
Committee chairman gr. Sonya Sharp said there is still work to be done with administration and that projects like this take time.
"It's new to the area and we want to make sure we support administration by giving them (as much) feedback as possible so they're set up for success when they come back to council," Sharp said. "I look forward to seeing how this project unfolds."
brthomas@postmedia.com
Twitter: @brodie_thomas