The Minister of Mental Health and Addiction did not rule out whether involuntary treatment could be imposed on people dealing with addiction issues under this task force.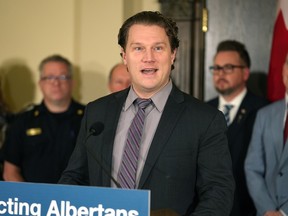 Article content
Calgary will get its own provincially-run task force on social issues plaguing the city, similar to the one announced earlier this week in Edmonton.
Article content
Provincial ministers, city councilors and indigenous representatives were at the McDougall Center on Friday morning for the announcement of The Calgary Public Safety And Community Response Task Force. The task force brings together $58 million in funding to address homelessness and addiction.
Article content
Mental Health and Addictions Minister Nicholas Milliken said the money will go toward a long list of items that include increasing addiction treatment capacity, converting former correctional housing units into treatment centers, creating hybrid police-health centers downtown, expanding medical detox services. , harm reduction outreach, and increasing access to affordable housing options.
Article content
"We're going to continue to build a system of addiction and mental health care that's focused on prevention, intervention, treatment and recovery," Milliken said.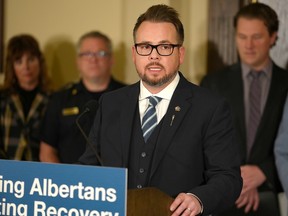 The task force will be led by Jeremy Nixon, Minister for Seniors, Community and Social Services, who was previously executive director of the Mustard Steed.
Nixon shared stories of his time working at the Mustard Seed, trying to help someone who came to him for help with addiction.
"We went down to the detox center, but there was no room for him," he said. "And he cried the whole way back because he was so desperate for help."
Nixon said community mobilization is needed to deal with the issues of addiction and homelessness, and that's what this task force is meant to do.
Article content
Calgary's mayor is tight-lipped about the social task force announcement

Breakenridge: Calgary shouldn't let complex social issues distract it from making transit safer now

Calgary business and community associations call for action on overdose crisis
Patricia Jones, chief executive officer of the Calgary Homeless Foundation and a member of the task force, called the plan "cutting edge."
"Having all these ministries together is the only way we're going to make change, and relationship is king," she said.
Questions have been raised about whether involuntary treatment could be forced on people dealing with addiction issues under this task force, as there are plans to convert correctional housing units into treatment spaces.
Article content
Milliken didn't rule it out, citing his mandate letter from the prime minister asking him to "explore treatment referral pathways for people with mental health and addiction issues within the criminal justice system."
He used the hypothetical example of someone who overdoses several times in a single day.
"We need to have some kind of compassionate intervention mechanism to ensure that we can figure out ways to ensure that he or she gets the treatment that they need or want," Milliken said. "And the ultimate goal there is to ensure that we can work to save people's lives."
Councilors Sonya Sharp and Andre Chabot, City Manager David Duckworth, Calgary Fire Chief Steve Dongworth and Calgary Police Chief Mark Neufeld represent the city on the task force.
Article content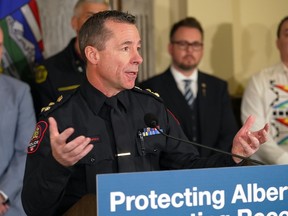 Neufeld said there are often times when police are not best suited to respond to social disorder calls and he applauds the work of the task force.
"It's great to see leaders at this level come together to make sure we coordinate efforts across that continuum so we can have the best outcomes for people struggling with addiction, as well as the people in the communities communicating that they feel unsafe," Neufeld said.
Councilors Chabot and Sharp said they were approached to sit on the task force and accepted. Both said they could not comment further on how the task force will engage with the city until they have time to meet and discuss their mandate.
Mayor Jyoti Gondek was not present at the announcement, but she did release a statement saying the city developed a multi-agency crisis response model earlier this year, and this approach shows the province sees the value in a collaborative approach. see.
Article content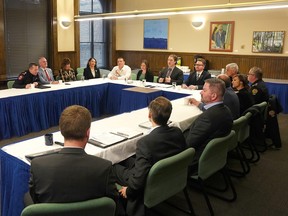 "Following an initial announcement of $187 million in provincial funding in October 2022, I am pleased to see the establishment of a local task force to determine the most effective and meaningful approaches to creating a coordinated delivery model around housing, mental health and addiction support that is desperately needed in Calgary," said Gondek.
Edmonton Mayor Amarjeet Sohi was less diplomatic when a similar task force was launched by the province in his city on Tuesday. Sohi said he was not consulted before the announcement and expressed concern about the work being planned.
NDP municipal affairs critic Joe Ceci responded to the task force announcement with a written statement, saying Calgary does not need another report on homelessness and addiction.
"The UCP has already looked at the issue of mental health and addictions and housing in Calgary through their downtown working group," Ceci said.
"The report was released seven months ago with no action and no indication of what recommendations they plan to implement – if any. Now the UCP is revisiting the same issues. It's an admission that they have no plan."
After the press conference, the task force held its first meeting at the McDougall Center.
brthomas@postmedia.com
Twitter: @brodie_thomas